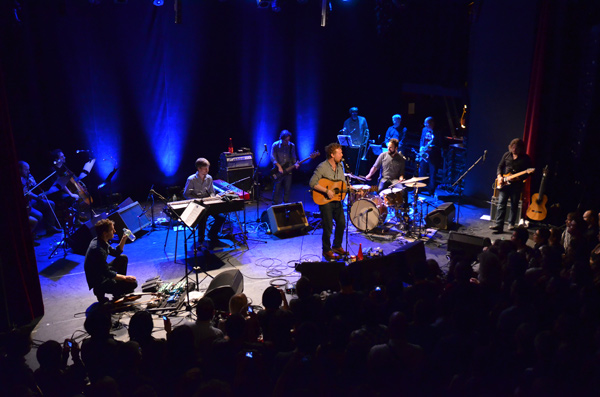 In December this little site turns TWO years old (on the day the world is supposed to end, actually) & we're happy to still be rocking along! Thanks to all the fans who've been visiting since the beginning, to the people who send us such great stuff & follow along on Twitter & Facebook and to all the new folks who've joined in since. And of course to the fantastic Frames gang.
In honor of our anniversary, here's a mega-update like old times. We think it's been March since the last one….items in no particular order!
+ First a News bit: Glen's scheduled to be on the NBC tv show Parenthood on December 4th playing himself.
+ We've done some rearranging of the menu on the site, making it a bit more easy to navigate (we think!) & freshened up all of the photos on the homepage with photos from this year. We made a sort of site map called the Big List here so you can see everything on the site in one place.
+ Part of rearranging things involved making updated sections for Colm, Rob & Graham's non-Framesy ventures.
+ Of course over the past year we've been logging all of Glen's solo gigs, including his current opening slot with Eddie Vedder. Click on any show here to see what we've got (including tour posters from each of the legs)! Brussels has a huge set of great photos in particular & the Fillmore in San Fran. Paris too. Lovely ones from Minneapolis as well. We also added some from Amsterdam back in the summer. And and and….
+ We have upcoming 2013 shows listed here with ticket/preview links.
+ We've tried our best to compile much of the press for Rhythm and Repose from 2012 here– reviews, interviews, features, etc….some are actual clipping scans, which is always cool.
+ Glen recently premiered his video for You Will Become.
+ Glen & Colm recently performed for this very cool session in Munich called Hauskonzerte. In the woods!
+ Last December, NPR World Cafe ran a Sense of Place series featuring a tour around Dublin with Glen.
+ We posted a great old radio interview from 2002 in New Jersey with Glen & his friend, musician Mark Geary.
+ Here's a 6 part Glen video interview from 2006 with FaceCulture.
+ If you were at the April 2005 Paris gig at Le Glaz'Art, we've posted a link to photos & a review from that one.
+ Donal Scannell shared an old piece he made for a tv show in the 90s of Glen talking about the song Seven Day Mile.
+ Someone sent us a few ancient press bits from Ireland around '91 that are at the top here in the old Frames press page.
+ A few cool photos here from last month's Whole Lotta Zep concert at the Sugar Club in Dublin where Graham & Johnny Boyle called on the spirit of John Bonham for the night! Looking for vids still…
+ Gorgeous version of Emer's Dream by Colm from his home studio. Also, Colm recently chatted on Today FM about the influence of The Waterboys' Fisherman's Blues. AND, Listen to an interview and hear him play live on RTE Radio 1. (jump to 00:06:15).
+ Road Records, a beloved but now shuttered record store in Dublin, was featured in this short film this year. Have a watch to see how important Road was in the Irish music scene during its long run.
+ Last November 2011, lots of folks from the music community in Ireland got together to celebrate the life of Mic Christopher while raising awareness and funds for the Irish Fragile X Society. This fall, the funds raised were implemented to bring Fragile X Syndrome experts from the US to Ireland for an educational conference. The wonderful Sheila & Maria at the Fragile X Society shared this news and thank you with everyone who helped make the day and their goals a success. You can also go here to see the gig page for this fantastic night last year.
+ Finally, there's this to keep an eye on: www.inthedeepshade.com
Enjoy everyone, have a great weekend!
[photos above by Starsareunderground.com & Adrian Rodriguez for Golden Gate Express]