In 2005 (& 2007, coming soon), The Frames' stellar merch manager Cherie kept a tour diary as the band traveled around the US, Canada, Australia, Europe & then back to Canada & the US again! Both diaries could be found on the old Frames site, but we've added them here too for safekeeping. Links go to those particular gig pages & other bits, if available.
07 March 2005 :: Minneapolis, MN
We wake up in Minneapolis a few blocks from the 400 bar. The temps have dropped again, but luckily no snow. After a bit of grub, Rob, Glen, Fiacre and myself head to St. Paul to KCMP for a live interview. This station is fairly new and part of the Minnesota Public Radio. Originally they were going to do a few songs, but time did not permit on this visit, so it was a quick few minutes with DJ Mary Lucia.
400 Bar – thanks Tom for having us, we enjoyed ourselves thoroughly. 9pm Mark got up to an almost full house and they gave Mark their full attention. All ears ahead tonite, the audience and band were having a great time.
Since we've finished Carnivale, we thought tonite we should go straight into some comedy. The battle ensued over if we should watch Shaun of the Dead, Pootie Tang or Bill Hicks. Pootie Tang won out for the first viewing.
**
08 March 2005 :: Billings, MT
Larry has been driving all night and most of the day, destination of the day is Billings, MT. I woke around 9am, headed to the back lounge to check out the scenery of North Dakota. Stunning landscape and even saw a few buffalo in the distance. On into Montana, big sky country indeed. We arrive to Billings and head straight into the Sunset Bowling alley. We were in just in time to get an hour in. Simon, Rob, Gerry, Joe, Johnny, Mark and myself rolled a couple of games. Rob & I were wishing we had our bowling balls with us, but they had to stay in Chicago for this trip. Mark's first time out and he did fantastic. Simon's goals of at least one strike and a speed of over 20mph were lived out. Gerry had the highest score of all of us with 126. Again, check out Mark's tour diary for his perspective of this bit of R&R. The evening was spent doing laundry, checking emails, showering and playing a bit of soccer in the carpark of the hotel. For most, steaks were in order for dinner, and i've heard nothing but good things about them. It's midnight and we're back in the bus, on the road, headed to Vancouver. First viewing of the night is Garden State…
**
09 March 2005 :: Idaho + Washington…
This morning find us driving through Idaho and into Washington. The weather is warm and the landscape breathtaking. Our first stop of the day is around 10am PST in Moses Lake, WA. We fuel up with Starbucks coffee and Edwalla energy fruit juices, then back in the road. We've stopped in Bellingham, WA, time to eat and bowl. A bit of mexican food then off to "throw rocks". Gerry has scored the all time high so far, with 5 strikes in a row and final score of 192! Go Gerry! Simon, Rob & Joe all did really well tonite too, all over 130.
**
10 March 2005 :: Vancouver, BC
after a long wait at the BC border we're on our way to Richard's on Richards, just in time to load in, soundcheck and have the doors open. Mark had a nice size crowd, but not necessary one that was listening. Don't get me wrong there are plenty that were, but the few that weren't were very noticeable… like the saying goes. "you can't hear the ones that are listening". It was a Thursday night, start of the weekend for most. The lads came on and despite the chattiness of a few, they gave it socks and had a great gig. Thanks Vancouver.
After the show we pack up and head back to the border, get the bus' satellite system to work just long enough to see a few seconds of the lads on the Carson Daly show… yeah!!
**
11 March 2005 :: Seattle, WA
we wake up in Seattle,have a wander for coffee, wireless and a bit food, then off to KMMT radio station for the lads to play a few tunes. Next stop the Crocodile Cafe. Great club, really good food and a fantastic staff. Tonite as people began arriving there was an excitement in the air; it's the weekend, the weather is nice and spirits are high, the makings of a great gig. With the show being sold out, there was barely enough space to get everyone in the room. Those that were on the outer edge had a hard time hearing over the bar noise, but overall everyone had a great night. After the gig, it's a quick beer and on the bus to head out to Portland. Good night Seattle.
**
12 March 2005 :: Portland,OR
this time round we're at the Aladdin Theatre. But first, the lads have an instore at Music Millennium. What a gorgeous day and great little neighborhood. The instore was packed. the lads and crowd really enjoyed themselves. They had Mark join them and played "it beats me". After the lads signed and shopped some headed back to the venue and some of us stayed around that neck of the woods, drank a bit of coffee, caught some wireless and just enjoyed sitting and watching people go by. I found out later that Bob Dylan's manager was at the instore, originally to catch Amos Lee, who was opening for Bob and Merle Haggard that night at Portland University, but stuck around when he heard The Frames were playing next. He was kind enough to extend an invite to Glen and the lads to stop by the Dylan gig. Fiacre was able to sort out a way for some of us to head over and catch a few songs before the boys had to be on stage themselves. While we were at that gig, Mark was on stage at the Aladdin, charming the crowd and having a fantastic set.
A great night was had by all, before during and after the gig. Thanks Portland, see you next time. 🙂
**
13 March 2005 :: day off…
Crescent City, CA – it's been a bright, sunny & breezy sort of day. Not much going on today except having a bit of yummy mexican food, walking around the harbour and watching a bit of telly. After dinner we're back on the bus, soon we'll be hitting the road, to wake up in San Fran. Tonite's presleep viewing turns out to be The Shining. Not long after leaving Crescent City, Glen calls out to come check out the view, he's spotted some of the giant sequoias. As we're winding our way south we come to a stretch of road just along the ocean, a thick mist of spray crosses the road and we can see the waves crashing on the rocks. Luckily we come to a spot where Larry can pull the bus over. A few of us are still up and hop off to soak up the night sky and the roar of the ocean. Back on the bus to continue down the slow winding coastal road. Larry is telling Glen and Joe about one of the giant trees on this road that has a gift shop built in it. Don't know if we'll see it, but it just may show up in a dream or two. Good night all 🙂
**
16 March 2005 :: travel day for us – LA to Dallas to Austin
the star sighting for the day is Brian Wilson and he's on both our flights. If he hadn't been pointed out to me, I think I would have just thought, hhmmm that guy looks familiar.
**
17 March 2005 :: SXSW
wow this is fantastic, we've arrived into town with gorgeous sunny skies. these next few days the lads will play 5 times, but all should be great, weather is good, food& drink are plentiful, people are friendly and all are happy to be in Austin.
We've loaded into the Blind Pig for the first gig, Glen and Joe interview with MTV for 20 minutes then we crossed the street to the Old Pecan St. Cafe (?) to have a bit of brunch. Mr. Geary stops by to check in and say hello, then pour onto the street and bump into the BellX1 boys.
People watching is a great past time this weekend, so fun to see so many in the middle of the day in their night time "rock" gear. the afternoon rolls on, the bands running a bit behind today but that's not surprising, over 1300 bands in 4 days there's no way all can be on time. 6th street is the main drag, with some of the venues being just blocks away.
Rob and I go for a walk and come across Electric eel shock, they are playing a venue that's open to the street and there's a big screen tv in the front of the bar as well… they are a japanese hard rock/metal band and they are kicking out the jams, the drummer is naked except for a sock and the crowd is loving every second of it. we stop for a couple of tunes and move on. the energy of that band is contagious, we walk away grinning ear to ear.
The Nationals play just before the lads at The Blind Pig, from the few songs I heard they were something to check out for sure. they are a NY based band and will be touring the UK and Europe in the next few weeks, keep an eye out for them. I think they said they'll be in London on April 19th… not sure of the other dates.
We've got Thurs night off, so after the gig all start to wander in different directions. Some of us went back to the hotel to freshen up then back into the city for some food. Aside from Simon and myself, most of the group is in search for BBQ as it's something that's well done in this town. Fiacre, Colm, Johnny, Rob, Simon, myself and Howard (overcoat records) hit Stubb's. It's on Red River just off of 6th street. Many a bbq'd beast is served. I went for a few veggies that were fantastic. Pure coincidence I look up to the bar and see a friend that I haven't seen in years and was hoping to find. Rob and I saddle up to the bar with Chris and have a drink and catch up, the lads finish eating & settle on going back to the blind pig for a few beers. We meet outside and there's another star sighting, Elijah Wood is standing on the corner with some friends. Fiacre wanted me to be the "american", go up and snap a photo….I'm just not that way, but i did try from a distance, no luck, it was too dark out. So off to the blind pig for a few drinks and trying to map out the rest of the evening. there are soo many band playing and at the same time, M. Ward, Supagroup, John Doe, BellX1, the list goes on and on. We stayed at the pig for a few then headed to (venue) to catch the bellies and hope to get in across the street for a song as well. Rob had no luck getting into The Parish to see M.Ward even with his wristband, so we ordered shots and beers and enjoyed the Belly gig. Gav joined us for a few as well, Idlewild is playing Saturday night.
**
18 March 2005 :: Emo's and Antone's
Emo's and Antone's are on the agenda for today. The lads played an afternoon set outside at Emo's, followed by Calexico. What a great way to spend the afternoon nursing hangovers. Yummy bloodymarys 🙂
Next off to Antone's for an early evening load-in, the lads arent on until midnight, so there's time to get to the hotel to rest and refresh. the gig was great, Calexico had an amazing set as well, they had Neko Case, Susan Cowsill and Nicolai Dunger guest vocal at various times throughout. The night ended around 3am, off to bed with all of us as it's another 2 gigs tomorrow.
**
19 March 2005 :: SxSW – trade show
leisurely start to the day, collect the lads around noon and head to the conventions center for them to play a slot at the tradeshow. Well rested and in good spirits they played a fantastic set. I wandered downstairs to check out Flatstock, it was 80 poster artists from around the country, possibly around the world, but don't quote me. First one I see is Jay Ryan out of Chicago, Rob and I are big fans of his work. I also came across Swamp, Lindsey Kuhn & Dana Buck out of Denver. They are old college friends of my sister so it was great to catch up after many years and see what they've been up to. They do gig posters, skateboards and all sorts of merch. Keep an eye out for them as they will be touring Europe, festivals and gigs. My head was spinning from all the art, there were so many cool designs.
check out the book "The art of modern rock" it's the second volume, the first covers Elvis to Punk and the second picks up from there and goes to now. there are so many amazing artists out there doing their thing, very inspiring.
After the convention center all wander at their leisure to RedEyeFly for the final gig of the weekend. They will be playing outside and there's no room for gear until the set so Claire and I take off in search of a music shop to get a few bits. By the time we get back the rain has come and it's a downpour complete with thunder and lightening. Not exactly the kind of weather ya want around all the electrical equipment. So we get soaked waiting for the previous band to finish and trudge through the puddles to get gear in. By the time the lads came on the rain had stopped and the sun came out. Nicolai joined Glen for a couple of tunes, the energy from him is incredible. (OITS note: there is a recording of this gig at the Internet Archive)
go to http://sxsw.buzznet.com and check out camera phone photos submitted by fest goers
to be continued…
**
15-19 march 2005 :: LA and SxSW roundup…
wow… let's see, where did i leave off… LA was fantastic, the weather was gorgeous, the sun, the palm trees, ah what a sight. there were even a couple of star sightings; Johnny saw Dabney Coleman then later on he and Fiacre bumped into Harry Dean Stanton next door to the venue. I imagine there's been a few postings on the message board about the gig, so i won't bother with that bit, except to say it was great to see you all and thanks for your support and warm smiling faces. Claire has joined us for this part of the journey, I imagine you're all missing having her on the msg board, but don't fret she'll be in touch soon.
It's our last night with the bus so after the gig we've got to get back to the hotel and sort through our personals, not something anyone looks forward to. The nice bit is the bus will meet us in Austin, so we don't have to fly with everything.
(photo by ana fernandez lamothe)
**
01 April 2005 :: Perth, Australia
Mark heads home and we fly to Perth, on our flight – G.Love & his special sauces, John Butler Trio and the Geelong Aus football team. Upon our arrival there were loads of kids and film crews to greet the team. While we had heard it had been 42 degrees C the week before, we walked out into 12C and lashing with rain. I think it made the lads a bit homesick. The gig is in Freemantle in an old aviation hangar of sorts. While the lads set up I went for a wander to a market a block away. Was pretty cool, had loads of food stalls, but also clothes, jewelry, handmade soaps and whatnot. Nice way to spend a rainy couple of hours.
Thank you to all who came out tonite. there was a great crowd and the staff was really fantastic. Again, apologies to those wanting shirts, i was down to the bare minimum. But now we can direct you to the site down under that has those shirts I couldn't carry around. http://shop.lovepolice.com.au/theframes.products/
**
02 April 2005 :: Perth to Frankfurt
travel day Perth to Frankfurt via Singapore
[ouch! – ed]
**
03 April 2005 :: Frankfurt, Germany
We arrive in Frankfurt and are driven to Koln for a TV festival. After the storm we arrived to in Perth we were delighted to be blessed with the warmth of the sun. Today's line-up: lads on first, The Zutons, Urge Overkill, Turbo Negro, Int'l Noise Conspiracy and Garbage.
The first 3 bands played for 40 min each and the last 2 got an hour. Being a really long day everyone headed back to the hotel after Turbo Negro. Rob and I stayed to catch a bit of the last 2 bands, but by the 2nd song of the Garbage set we where knackered and headed back ourselves
**
04 April 2005 :: travel day to Paris, France
After arriving in Paris after 8pm a few of us headed out for some food and vino. We walked up the steps to the Sacre Coeur in the rain, ducked in for a few moments of silence then headed around the corner for a bite. We sat outside and watched to rain come down in buckets around us.
**
05 April 2005 :: Paris, France
Glaz d'art — thank you Paris….. we had a lovely evening and hope you did too.
**
14-17 April 2005 :: Italian tour
So Italy, well let's see. We flew into Bergamo, just outside of Milan. We arrived the night before and stayed outside of the city. Not much to report, except we did find some yummy pizza down the street. Nothing like the real thing. We met our local tour rep Braz and driver Matriciano who will be with us for the next few days. Braz was kind enough to bring us an Italian phrasebook. His english being limited and our italian being even more so, we're in for a fun few days of hand gestures and speaking slowly 🙂
The first gig was at Rolling Stone for RockTV. The lads played 2nd for just 20 minutes. 4 quick songs and Milan is history. Thanks to all who made the trip, I spoke to a few folks who traveled an hour and that might not seem a long way to most, but for 4 songs, that's dedication!
We piled onto the bus early in the morning and settled in for a good long trip south, next stop Roma. Books on this trip: The DaVinci Code is still making the rounds, The Surgeon of Crowthorne by Simon Winchester and How mumbo jumbo conquered the world by Francis Wheen. The landscape is lovely, rolling hills, farms with grapevines and snowcapped mountains in the distance. Between Florence and Rome there are quite a few mountain passes and valleys with beautiful and at times crumbling villas. Quite a bit of Splend!
We arrive in Rome in the late afternoon, drop our bags off at the hotel before getting to the venue. The hotel is outside of the city center and looks to have had it's heyday at one time in the past. Quaint lobby with lots of dark wood and marble and the room walls covered in pink fabric with garish looking furniture. It's nice to see not all independent hotels have gone the way of the Ibis or Holiday Inn same look, different town. Anyway, sorry off track there.
Again it's unfortunate that this a quick trip and there's no scheduled sightseeing to be done and sadly on the way to the venue there's no accidental sightseeing either. So those who haven't been to Rome have now only seen the many apartment blocks and traffic that is modern day Rome. One day they'll get back and get the historical bits in as well.
MardiGras is our support for the next 2nights. Very kind and talented people.
Jailbreak is the venue and from what we've been told has hosted many a good live band.
I met quite a few irish and american folks tonite as well as italian. Everyone very pleasant and happy to have the Frames in town. Thanks to you all for your support and we hope to see you again in Rome if not elsewhere on our travels.
Back on the road the next morning and headed to Reggio Emilia, well close to there. The venue is Tempo Rock in what seems to be the middle of nowhere, but is huge and expects to have 2000 bodies in it by midnight. Wow! The town is Gualtieri, I believe, and it's known for Palazzo Bentivoglio and being home to Naif painter Antonio Ligabue.
So the club consists of a huge dance floor with a stage in the middle and 3 or 4 rooms satellitting off of it each with their own style of music. There was a very supportive crowd for the lads and despite being in the middle of this huge club with their backs to "hard rock/metal room" with music blasting out of the open doors, the gig was fantastic. There were loads of kids coming in throughout that were drawn in to the center to catch what was left of the gig. A great night in the end.
We did get a day in Milan before heading to Liverpool. Rob and I took a tram to the city center and wandered around the Sforza castle then over to the Duomo. Sadly for us, but good for it, it's covered with scaffolding while they check the facade and do repairs. But we did take the stairs to the top and enjoyed the view of the surrounding city. Birds do have a fantastic view of our world.
Thanks Italy !!!! I miei ossequi ~ buona fortuna
**
April 2005 :: UK tour
ooops, thought I forgot eh??
well, no way! our time in the UK was fantastic. Cherry Falls supported the lads on all 5 dates and were a lovely bunch. Do check them out at http://www.cherryfalls.co.uk/ and in a town near you when you can, they are worth it. Hopefully their new record will be out very soon, if not already, check your favourite record shop.
Liverpool was lovely, Rob, Fiacre and myself made a point of getting down to Albert Docks to check out the Beatles museum. We've all seen the anthology, so pretty much knew what we were in for, but it was a nice outing. Walking back to the hotel we stopped at the Cavern for a nose around and a coffee. The gig was at the university and as you all already know, was great. The lads had a wonderful night and the audience was outstanding. A fab beginning to this tour.
The next day was a day off in London and coincidentally, Glen and Claire's birthdays. So a relaxing day and a lovely dinner with a few cocktails to finish off the evening.
Now onto Shepherds Bush Empire, another great gig and fantastic crowd. Lots of familiar faces from near and far, always a welcome addition. Joanne, thanks for your help!
I didn't get to see this gig, as I was in the lobby, so you know where to get this info. 🙂
That night we headed off towards Edinburgh and woke somewhere in the countryside. The drive up was really beautiful. As most of us had read The DaVinci Code, we were curious when we saw the signs for Rosslyn Chapel. Being that we had the day off we had some time to leave the main road and go check out the Chapel. When we arrived there was a wedding that was just finishing up, so we grab a pot of tea and wander around til they've cleared the chapel. Was a beautiful day and nice to be outside soaking up the sun. After checking out the chapel there was delicious food to be had in the local pub, so off we went.
While driving into Edinburgh we had to do a bit of driving around the city as one of the main bridges was blocked off (found out later, it was a jumper), lucky for those of us that were up and looking around, it was nice to see alot of the city. The Architecture is amazing. After parking the bus, a few of us went off in search of a pint or two. Found a nice enough place, think it was called the Blue Blazer or something like that. There were many signs on this place, but I think that was the BB. Hours later and many laughs, it's time to turn in.
Queens Hall – lovely venue, not sure of it's original use but an interesting set up indeed. The singer from CherryFalls, Joe, is from outside of Glasgow and had a good bit of support here tonite. Loads of love throughout the night. I was in the lobby of the bar so I didn't get to see this gig, but could hear it and got many reports that it was grand. Thanks to all who came over to say hello. And of course to buy shirts.cds and bags 🙂 I'm looking forward to getting back to Edinburgh for some time on my own to walk around and check it out. Very nice vibe there.
Off to Leeds, another overnight drive. Oh and we did find out the jumper didn't jump.
Leeds Varieties Theatre, wow!!! what a cool place! Quite a history here and what a great room to catch the lads in. I read that Houdini and Charlie Chaplan performed in that room. Not on the exact stage as they've since replaced it, but still…. very cool. I'm not sure how much the elderly ushers enjoyed the volume of the gig, but I did see a couple of the ladies bopping their heads along now and then.
Cambridge – not sure what part of town we were in, but the venue was in a strange looking complex that had a few restaurants, a cinema, fitness center, hotel and bowling alley! oh I was so wanting to get to that bowling alley….. some of the CherryFalls lads got in a few games, but I blew my chance and missed out. After being in the theatre setting of the past couple of night it was strange to be a the Junction. They had the lads in the annex building, but it turned out to sound great and the audience was amazing. We had a great time and got to visit with some old friends as well. Thank you Cambridge and a really big thanks to CherryFalls, rock on !!! See you again, maybe at T in the Park 🙂
Those 5 gigs came and went so quickly, but they were amazing and the energy put out by the audience and the lads was superb. If only we could capture it and bottle it… what a seller that would be.
So, no tours til the fall for me, it is festival season… have a great summer and see you out there!
check the dates page for all the places you can catch the lads….
xxche
**
September 2005 :: US tour
As you all know, there was much local drama the few days leading up to the ACL fest. Fortunately for Austin, Hurricana Rita changed course. Unfortunately for SW Louisiana and parts of SE Texas, she hit them pretty hard and has caused much destruction for area. Our hearts and prayers go out to all of those affected.
**

Sept 24th, Austin, Tx
OITS note: Click through to listen to this whole gig and see some photos by Zoran Orlic. Click below to listen to a great interview with Glen & Joe at Paste Magazine. Interview starts around -26 min, just after Lay Me Down.
[audio:http://orderinthesound.com/various-audio-files/PasteCultureClubACL2005.mp3|titles=Paste Magazine Interview after Austin City Limits September 2005]
Saturday we're early onto the festival grounds (well all except Glen, he had to fly into Dallas this morning) The temps are already in the high 80s and climbing, but it's a beautiful sunny day. 15 minutes before they are due on stage Glen arrives, WHEW!!
The lads go on, welcomed by a nice crowd that grows by leaps and bounds as the set goes on.
Fair play to all for standing out under the blazing sun. What a great festival, the food, the music and the people. Highly recommend it. Later that evening a few of us went to Stubb's to check out Wilco – a fantastic gig, they sounded amazing and looked to be thoroughly enjoying themselves.
Be sure to check the message board for all gig reviews… i'll leave it to you all as you're so good at it. We are delighted to have Larry driving the bus for us again, we are indeed in good hands. While Simon's out there playing with Mundy, we've got the pleasure of having Dermot out with us to help the lads out. Don't be surprise to find a few diary entries from him.
On our way to Arizona it's pretty sedate, several episodes of season 5 of the Soprano's, a night of bowling in Silver City, NM & plenty of mexican food. Monday we spent in Tucson. Glen & Fiacre found a great place for brekky, Cafe Milano – delish food and coffee. We moseyed on down to Chicago Music Store for a nose around then wandered around on 4th ave. Met a girl in ITL coffee shop that worked in Sine years back, knows the Gearys – small world. We didn't do much else as it was 103F & shade was sparse. Fiacre had come across a very nice and helpful taxi driver who recommended a spot for dinner – yummy mexican place. Joey Burns met us out, it was good to see him and catch up. He & the Calexico bunch are hitting the road here in the states later this week, be sure to keep an eye out for them in your town.
**
27 September 2005
On to Phoenix, it's another hot day. En-route we watch a few more episodes of the Soprano's. Unfortunately, we weren't able to get to Phoenix early enough to have a look around. Tonight we're at The Rhythm Room. Great crowd, was nice meeting y'all. Thanks to all who came out to support the lads. A local fella, Swordfish kindly filled the support slot. I hope I got that right, I know that's what the sign said. He was entertaining and had some really good songs. After loading out and talking to a few folks we're headed out, back to Tucson.
**

28 September 2005 :: Tuscon
We're back in Tucson, another scorcher of a day. The heat is amazing, I've never felt anything like it. Glen likes to describe it as having a hairdryer blowing in your face. I wouldn't go that far but considering it's been over 100F these last few days, it is a bit much for those not accustomed. Chicago Music Store gets another visit from a few of the lads. I went back to ITL for a iced soy latte, oh how i miss them while i'm in ireland. There was a great used clothing shop next door that I found a few goodies in. Luckily the venue was in that same neighborhood, oh and there is amazing Guatemalan restaurant just a few doors down. Plush is on 6th st. & 4th ave. with a super cool staff. met loads of locals and transplants, really enjoyed this place. This was our first night with Josh and his band, I wasn't in the room but from what I could hear it was a great set. Thanks to all who came out, we look forward to getting back.
**
29 September 2005 :: San Pedro, CA
we're here for the day, Glen's got a video shoot tonite. Too hot to do much of anything. Found a few shops to peruse and Larry's hotel has a pool, so a nice swim should help to cool things off. The shoot is to take place between 8pm-8am on a beach not far from here. As this is an independent project, who knows when it will be done and what will come of it. I'm sure Claire will keep us all posted. I'll send in a couple of pics. The lads went down to give Glen a bit of moral support and I went down later to check it all out. The crew were a good bunch of people. Really looking forward to seeing what comes of a long night.
**
30 September 2005 :: Los Angeles
not much to say as we rolled into town just in time to load into the El Rey. what a great looking venue. It turned out to be a lovely day (as in it was much cooler than days previous), even though the wild fires were still burning just miles away. we did get to see some old friends and familiar faces, always a delight. was great to see some of the crew from the video shoot and the young lady who co-stars with Glen. the lads had a great time and I think it showed. What a difference when you're able to see a band enjoying the gig as much as they audience. thanks again to Tricia from KCRW for the heartfelt welcome.
**
01 October 2005 :: San Francisco
woke up to a cool cloudy San Fran – lucky for us the Fillmore is in a neighborhood with a good size thrifty and other little shops and eateries, so that's the day pretty much. Well, Rob, Glen and I did take a long walk in search of some camera shops. On this tour, between all of us we've got various cameras – digital, 35mm and 120mm. We're always on the look out for 120 film and lenses. The Bob Dylan special has been the DVD of choice today & tonight, great stuff.
the Fillmore, what an amazing venue. the thousands of bands that have come through here… wow, a great vibe and beautiful room. I'm sure the message board has been flooded with gig info, but I must say what a delightful set. When Martin from Calexico stepped out from the shadows and started to play, chills went straight up my spine – fantastic!!!
**
Oct 3 Monday
another beautiful day in the N.W. — stunning really – we're back to the Aladdin Theatre. I was out in the lobby for this gig, but from what I heard and what I was told – it was a stellar night. Going back to the Aladdin is a pleasure, the room & the staff are wonderful. And it was good to see some folks that were at the gig back in March and came back to see us with new frames friends. After the gig we load out with a bit of time for a few drinks next door. Being a school night, it was pretty quiet, but it was nice way to end the evening. There were a few folks from the gig, 2 of which came over to thank the lads and told us they'd be driving to Seattle the next morning to go to the Showbox gig. Thank you Autumn for saying hello and happy y'all had a safe journey.
**
Oct 4 :: Seattle
it's tuesday and we're stopped just outside of Seattle at a truckstop for breakfast. Nice bunch of folks working there, and one of the waitresses was Dora – thanks for the chat and warm hospitality. Our next stop is KEXP – very cool radio station. One of the staff had his pug puppy, Rufus, with him. He was so so cute. Hoping y'all got to catch the set live, if not I'm sure they archive all the in-studio guests, go to www.kexp.org.
Tonite we're at the Showbox just a block from Fisherman's Wharf. There wasn't a chance to walk around this time, well I didn't, except to get to the postoffice. The lads did go out for Indian food, which from Rob and Dermot's gushing review was fantastic. During the gig Glen told a tidbit of being at dinner, I guess the place was empty except for themselves and one other table which turned out to be The Mars Volta, but there wasn't any exchange between them. wish I had been there, just may have gone over and invited them to the show, why not, right?
the Seattle show was, as some say, awesome. the lads really had a great gig – i was lucky enough to be in the room tonite. the audience was amazing, the energy was uplifting.
thanks to all who came by to get shirts or just to say hello – afterwards we went to the Alibi room for a nitecap, again Autumn is was lovely to see ya again – please tell your friend thanks for driving up and hope y'all had a safe journey back home.
A big thank you goes out to all who have contributed to our Katrina Relief Fund – tonight I met a guy who was telling me about driving big rigs of supplies and instruments down to displaced musicians. Said there were 24 truckloads of donations. It's wonderful to hear the good things that are going on surrounding this disaster.
**
02 – 05 October 2005 :: portland, seattle, boise…
Sunday is a day off – after a marathon drive we wake up in Portland. Being a Sunday, it's a nice quiet day, a walk around looking for food… we stop for brunch at the Virginia Cafe. Later that evening Colm, Rob & Glen go to see Colm's cousin at the Symphony for a bit of Bartok & Beethoven.
**
Oct 5

just yesterday morning we got confirmation that there's to be an instore happening in Boise today. We're all delighted to go back to Boise. First stop breakfast then the Old Boise Guitar Company, the lads can't pass up a guitar shop. The instore is at The Record Exchange, one of the coolest record stores in the U.S. and the staff are outstanding. Thank you Joy and Jill for having us and for the sushi. We love your shop and look forward to getting back to see y'all.
**
06 October 2005 :: boise
I have to say to anyone who has not been out to the North West of the U.S. try to get there, it's just so beautiful. (especially all of you living in the states) The light is amazing. Boise was bright and crisp and as the sun went down the colours were stunning on the surrounding mountains. Thanks to all who came out to the instore, we really had such an amazing day at The Record Exchange.
We drove out of Boise last night so we missed a great deal of splend, but when I got up today we were in Wyoming. It is so breathtaking. The rolling prairies, mountains in the distance and huge sky. More of the same going into Colorado. We're in Denver earlier than expected, so we're headed out for a bite to eat and maybe a bit of bowling… oh yah.
**
07-08 October 2005 :: Denver and Lawrence
Things to do in Denver on your day off – well it was a beauty of a day for laundry. I know, very exciting stuff, but it had to be done. While on the hunt for a good spot for dinner, we were standing on a corner of the 16th street mall and i was pleasantly surprised to be tapped on the shoulder by a friend from Louisiana. She had just moved up on Sunday. She and her boyfriend were having dinner when she spotted Rob. The chances of being on the street corner at the same time, wow. It's not often that it happens, but so cool when it does.
**
Oct 7th
another beautiful day in Denver, morning starts around noon for us, a quick stroll for a coffee and Glen doing an interview with a paper in Montreal as we walk back. We head to the neighborhood of the venue. Nice day for a walk around before load in, found a nice park with a lake. A few restaurants and a guitar repair shop across from the Bluebird Theatre served us well. Dinner at Mezcal was fresh and tasty. My pre-gig Margarita hit the spot. I tried looking up the history of this venue as it does look like it's been around for some time. Some did tell me it was an adult film theatre at one point and either before or after that a general movie theatre. I imagine at one time there was some actual stage theatre happening here. Anyway, it's a deco looking little theatre with a cool neon marquee and a great staff. Thank you Anne. Jeff & Karen, Jessie & Paul and Brett – it was great to see y'all thanks for coming out. A big thanks to Cindy of KRFC for her overwhelming love and continued support for the lads – you rock! And of course, thanks to all of you in Denver and those who flew in to be with us tonite. Amazing stuff.
**
Oct. 8th – Lawrence, KSwe have been so blessed on this trip with great weather and today is no different. this is our 2nd time in Lawrence and it's just as cool as we remember. there were a few more people out and about today, there were few art openings and a football game so there was great energy on the streets. A perfect day to wander aimlessly. Tonite we're at the Granada.
**
08-09 October 2005 :: Lawrence and St. Louis
Oh Lawrence, KS — thank you! What a great night. Last time when we were in town with Damien Rice, there was a post show feast and karoake session at a Japanese/Sushi restaurant on Massachusetts. There wasn't enough time for all of us to repeat that experience, but Rob and I went down for a pre-gig meal and it was as good as we remember it. Thanks to all of you who came by and said hello, see y'all next time.
St. Louis, MO – it's Sunday and there's a Rams football game on today, lots of folks in the parking lots listening to the game, cooking out, just enjoying the day. the venue is Mississippi Nights – love the location, right on the river, lots of cool buildings to entice a few of us to take the cameras out and have a nose around. Looking out on the river reminds me of being in New Orleans, just love being near water in motion.
I'd like to say thanks to Randy & Shannon Bacon for coming out again, was good to see you both. Check out their site www.randybacon.com – they've got a cool photo/art gallery in Springfield, MO – and they have bands – so any of you traveling through, do stop and say hello or if you're band will be going that way, get in touch, who knows maybe there will be a gig in it for ya. Thank you to the staff at Mississippi Nights, you guys rock, we had a great time.
**
10-12 October 2005 :: Memphis, Atlanta and Carrboro
Oct 10
On our to Atlanta we've got the day off, so we're stopping in Memphis. First thing in the morning we got up and went on a tour of Graceland (compliments of Fiacre our fearless leader).
I had already been to Graceland years ago, but it was first for all the lads. It was a bit crowded and they've got audio tours now which can be good and bad. My advice if ya have the option is to go in the winter time, there are far fewer people and you don't feel as much like cattle moving through the place. It's an amazing place, very modest for as flash as Elvis got in the mid-seventies. It feels like a home. After that we head down to the Beale St. area for the rest of the night. Rob and I went to Sun Studios then down Beale street to the river to watch the sunset. It's hard not to think of Jeff Buckley as we look out on the Mississippi. He's been on our tongues for a couple of days now. Glen did a bit of wandering around down there as well. Colm and Dermot had an interesting afternoon, they were approached by a guy who said he'd show them the hotel balcony where MLK was shot. Once they got down there, Jessie Jackson was just about to give a speech. Seems he was trying to gather up New Orleans evacuees to take back to N.O. to get them working. Was hoping to get Colm or Dermot to write a bit themselves about this, no luck so far.
Later that night Rob, Glen and myself went to the movies, wanted to catch Wallace & Grommit (so sad about the studio fire), but we went to see FlightPlan instead. Wishing we had seen W&G.
We've got the Band of Brothers DVD boxset with us and we've been staying up late getting a few episodes a night… so that leads to us not getting up very early and not doing much of anything these next few days aside from loading into the venues and eating.
**
Oct. 11 Atlanta – The Earl
tiny little place with a cool restaurant up front. Personally I didn't get anything done today except for having a lovely coffee from down the street. I know, lazy… but staying up really doesn't lead to getting up early. A few of the boys went down the road to a music shop, always on the lookout for some new addition to the gear. I had followed them in for a quick peak and encountered the sweetest shop cat. But back to the venue to get set up and settled in. Jo-Anne, it was great to see you and to meet Troy, we missed you along the way, but know we'll see you again before long. I've met several new friends tonight, had a PGA pro come up and tell me how he and his friends had just been to Ireland and a young lady had given them a list of band to check out, the lads being the first then Turn, Mic Christopher, BellX1, Mundy and i can't remember the rest. So they bought Set List in Dublin, listened to it everyday then got home and saw the gig listed in the paper 2 or 3 days later. The energy is contagious to have people so genuinely excited to be at the gig. Every night I get to meet folks that feel this way and I'm thankful that I get to meet them. All the different stories of how people find out about the lads is so cool.
**

Oct. 12 – Carrboro, NC – Cat's Cradle
Another late one last night watching DVDs, so today is again just about loading in and setting up. I've not been here myself and didn't know which way to go so I wound up staying on the bus catching up on emails. For dinner we did walk down to the Spotted Dog for a bite. They've an excellent menu, especially for tofu/ veggie lovers. It's a late one tonight, Josh doesn't get on stage until 9:30, which puts the boys on at 11:00 – even so, great turn out for a school night.
**
14 October 2005 :: Falls Church, VA (DC area)
just down the street is a great photo/camera shop, we all descended upon it like a hungry pack of wolves. lots of darkroom supplies, oh if only Wexford had a shop like this. after a bit of running around to do boring old banking and fedex business, I wandered around a antique mall hoping to find a little something for Rob's bday. unfortunately nothing really caught my eye, maybe philly will offer something up. we're at the State Theatre tonight and wow what a crowd. thanks so much to all of you that came by to say hello and share your stories. nothing against the State Theatre, but maybe next time we come through we'll be at the 930 club, i keep hearing such good things about it, fingers crossed. Rich, thanks for your trust, hope you got your shirts. bruce, you're a star!
**
15-17 October 2005 :: Philadelphia, NYC and Somerville
Hi all – we're in Cleveland and I'm out in the foyer, Josh is playing (it's his bday!) and i'm hoping to catch up on the diary while i've got some time.
**
Oct. 15th Philadelphia – TLA South Street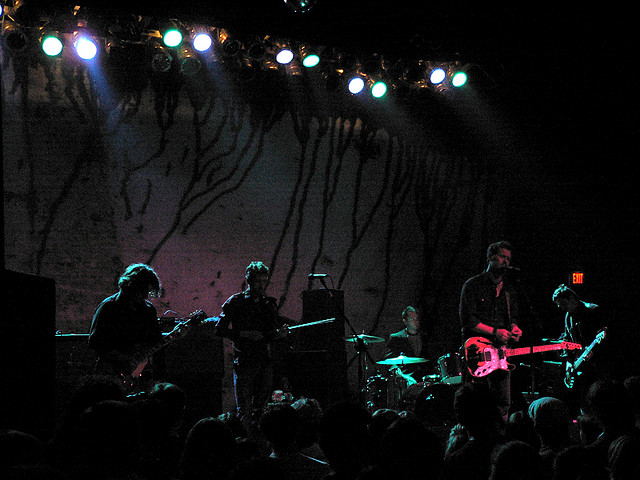 it's a beautiful day in Philly. South St. is bustling with Saturday shoppers. There are so many food smells and shops to look at it's almost an overload to the senses. Rob, Gerry and I go looking for food. We pass one philly steak place that has a queue around the corner, the smell of grilled onions was overpowering but nice. We decide on the 4th St. deli, the sign claims that's it's Famous. This is one of those east coast delis with sandwiches that are anywhere from 4 to 8 inches high- crazy amount of food, everyone leaves with leftovers. A big thanks to Laris for dropping off much needed tour shirts. We'd also like to thank Sarah and Mrs Phipps' for those breakfast cookies. They were a big hit and they do go quite well with beer. happy bday rb… Next stop, NEW YORK CITY — yahooooo
**
Oct 16th – NYC – Irving Plaza
we arrived into the city around 5am, got the rock star parking spot outside the venue – which in Manhattan is pretty amazing. Rob, Glen, Larry, Fiacre and myself were pretty wide awake and being NY we knew we could find something open. Glen lead us to Veselka on 2nd ave – nice ukranian diner open 24hrs – can't imagine working this shift, while there are plenty of regular folks coming in at this hour but there will always be the ones that are ending their night out, slurring or talking louder than necessary, anyway…. back to the bus for us just before sunrise and straight to bed. Up just before load in for a quick walk to radioshack. I'm off to Dojo to pick up some dinner… they've got this great dish, tajiki tofu. yum. while in NY it's almost a law that you have to have at least one slice of pizza, so I save my tofu dinner for later or tomorrow and grab a slice on the way back to Irving Plaza.
Oh what a magical night… great gig, great crowd. Ladies, always good to see you, safe travels and hope it's not too long before we see ya all again. Off to 5th st. for a few after gig beverages. ppy bday db
**
Oct 17th – Sommerville, MA (Boston area)
think the full moon has had an affect on things today… Rob, Glen and I walked around in all the wrong directions trying to find the Rosebud Diner, which was just a couple of blocks from where we got coffee. I've not been to this venue before, it's pretty cool, a seated theatre downstairs and movie theatres upstairs. wishing I could take the off for a an hour or so and see Broken Flowers. Tonight the lads played first, being that there was no bar and was seated it lent itself to be a more sedate crowd – which isn't a bad thing. I wasn't in the room but i know the lads enjoyed the gig – I didn't get to see Josh's set either but was pleasantly surprised to see him end it by coming out into the lobby with his band in tow. Reminds me of Peter Himmelman, except that Peter takes his crowds out of the venues and into the streets for a song or two then leads them back in again. That always makes for an interesting evening.
**
19 October 2005 :: Montreal
Montreal – We crossed the border into Canada without any trouble around 4:30 am. Some of us stayed up watching dvds, The Family Guy – Stewie movie and then The Mighty Wind. the sun was rising giving light to the surrounding landscape the leaves have started to change up this way, it's a beautiful view. time for sleep. later that night after walking around St. Catherine street and doing a bit of dvd shopping we stay up watching Season One of Twin Peaks, not realizing Season Two would be hard to find. It's been too long and I don't remember the 2nd season, but i'm told that's ok – we're not missing much. ah well.
Wednesday we're at the venue Club Soda on St. Catherine's – there are strip clubs all around, and i'm told the transvestite clue across the street, Cafe Cleopâtre is infamous. Not much going on today except load in and soundcheck. Sam joined the lads on stage tonight for Happy, sounded great from where I was. Thanks Montreal, was a nice evening.
**
20 October 2005 :: Toronto
Toronto — this time around we're at the Phoenix. Strange location, obviously an old club but once inside it felt great. The night would be good, and it was. I met some really nice folks and heard some good stories. Josh had a great set. The lads and the crowd were on fire, what a rockin gig. It'll be nice when the band can go to Montreal and Toronto with some time off to explore both of these fine cities, such a shame to hit and run. Til next time — thanks!
**
21 October 2005 :: Cleveland
Hello Cleveland — tis a chilly wet day and the Beachland Ballroom is a bit removed from a lot of action. But, there's a great record shop just a couple doors down with a cool kitty named Vinyl and a sandwich place across the street run by one of the nicest women i've ever met. I was out in the lobby tonight, wasn't able to hear the details of the show, but sounds like all went well. I did catch a small bit of Fiacre getting on stage and singing a Dylan song with the lads. oh and it's Josh's bday! Cathy, thanks for stopping to say hello. Oh and there was a fella that was in the line to get Josh's autograph, who was spreading the word of a singer songwriter named Tristan Prettyman. I haven't checked her out myself, but, he was going on about how fantastic she is and how she and Josh should work together. He had a few beverages in him, so I think that's why he wouldn't let up about it, but it worked, since I've remembered her name. Thanks Cleveland, you do indeed Rock!
**
22 October 2005 :: Chicago
It's great to be in Chicago, but being the end of the tour, it's sad as well. Rob and I woke up on the drive in, it's been a few months since we'd been in Chicago and we were excited to see it again. After finding our way to Lincoln Park, slowly everyone gets up and out for breakfast at the Pancake House just down from the Park West. I don't even know what the rest of the lads did this afternoon, hopefully they got out and wandered around. It's a good area for that, the lake isn't too far of a walk and there a loads of shops in every direction. Tonight was an early gig, the doors opened at 6:30, so my afternoon was busy with getting ready and talking to family and friends. Tonight is also the first night of the Baseball world series, which the Chicago WhiteSox are in and hosting. Not being a diehard fan of either team, what the hell, Go Sox! What a fantastic night – thanks to all of you who came out tonight, said hello, bought shirts, cds and just made it an even better night than we could have asked for. Rob's family were out in full force, my Mom was flown up from New Orleans and lots of friends came out too – it was magic. See y'all next time!
**
End of another usa/canada tour – November 07, 2005
We'd like to thank everyone who donated to the Katrina Relief fund on the N.A. tour. A huge thanks goes out to Josh Ritter for giving away his tour single for donations.
I'm down in N.O. right now and it's all very overwhelming to see this first hand. I don't know if pictures or words will every be nough to explain. The good news in all of this is that there are so many people who want to rebuild and who are doing what they can to make sure it happens.
We raised just over 1,200 USD. A portion of that will be going to the Red Cross. The rest will be going to family and friends who have been affected by the storm. One friend, Stephen, who was living on the Mississippi Gulf Coast with his two kids was lucky to be able to evacuate west to Lafayette, LA to his Mom's home. Sadly when he was able to go back to check on his house and business, they were both gone. In the end we're just so thankful they were able to leave.
I could go on, but i've got to go – take care and again, thanks to everyone for their monetary and moral support. xcherie
**
Last post of 2005 – December 24, 2005
A big thanks to you all for coming out and supporting the lads this year, we've met some incredible people along the way. A special thanks to you who came by to get merch or just to say hello, you're all stars in my book! I missed the Point gig and last European tour but i hear it all went great and that Big Al was a rockin merch dude. Happy holiday and best wishes for a happy and healthy new year. See y'all on the road! x che