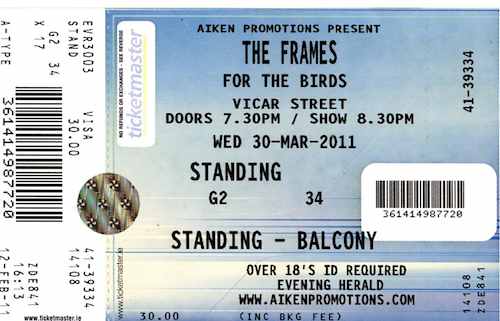 For The Birds 10th Anniversary Gig
Check out the FTB 2001 page here with reviews and videos!
Previews & Memories:
The Irish Times talks to Colm & Dave Odlum on 22 March about making FTB and how the idea of the  anniversary gig came about. Click here to go to the Irish Times site or here to see the scanned article.
Ian Whitty of Ian Whitty & The Exchange writes a lovely ode to FTB in honor of its 10th here at Cork, IE based music blog Noise.
Jim Carroll at heinekenmusic.ie writes about FTB (links inside our site).
Reviews:
Jim Carroll shares his experience at IrishTimes.com.
Phillip Cummins reviews the show for State.ie, featuring photos from Kieran Frost.
Pre-show Introduction: Speech by Emmet O'Brien, which you can read or listen to here on the site

Support: Interference
Main Set: In the Deep Shade, Lay Me Down, What Happen When the Heart Just Stops  – Caravan (Van Morrison) – Walk on the Wild Side (Lou Reed) with Bill Blackmore on trumpet, Headlong, Fighting on the Stairs – Autobahn (Kraftwerk), Giving Me Wings, Early Bird, Friends and Foe, Santa Maria, Disappointed, Mighty Sword (with Bill Blackmore on trumpet)
Encore: Roddy Doyle reads his short story "Blood". Then the band take the stage again. Your Face, God Bless Mom, Stars are Underground, Revelate, The Cost. Then Glen starts to ask friends to come up and join them. Wild and Free (by Damien Rice solo), Do Right Woman, Do Right Man – Aretha Franklin (with Bronagh Gallagher), Gold (with Interference), An Raibh Tú ar an gCarraig (Were You on the Rock) (with Liam O'Maonlai and Interference), See Line Woman –  Nina Simone (with Liam and Interference), Baby Please Don't Go – Van Morrison (with Liam and Interference),  Gaelic song w/bodhran (with Liam and Interference), Forever Young – Bob Dylan (with Liam on keyboards), Heyday (with Karl Odlum on bass and Simon Good on guitar and video of Mic Christopher playing on the screen behind them, Glen thanks the Mary Janes at the end.)
Comments: The Frames are introduced with a lovely speech by Emmet O'Brien. This is clearly a special night for the band, and the stage is filled with Frames past and present. Glen on guitar, Colm on violin and banjo, Dave Odlum on guitar, Karl Odlum on keyboards and banjo, Joseph Doyle on bass and tambourine, Graham Hopkins on drums and Rob Bochnik on guitar. Local musician Justin Carroll rounds out the sound on keyboards as well. Arrangements have been made for the band's website to broadcast the entire concert in a live audio stream from their website. Interference's set is broadcast without a hitch but once The Frames take the stage the website is overloaded with visitors and the feed is spotty until the decision is made about halfway through to switch to another server so more people can listen. By the end of the main set the show is being broadcast again without interruption and fans around the world are able to listen to the encore in real time. Speaking as two of those fans, we were delighted to be able to share the experience, in some small way, with everyone at Vicar Street. A million thanks to Claire, Donal, Leon, Jerry and Shane for all their hard work behind the scenes in bringing the show to those who couldn't be there. Thanks also, as always, to audience members who captured and shared the videos below.
Photos:
Kieran Frost's flickr set for thestate.ie article above
A really nice set of photos at raggedwords.com by Mark Earley

Video:
In The Deep Shade – Lay Me Down – What Happens When the Heart Just Stops (by visionz0)

What Happens When the Heart Just Stops – Caravan (by Murdererer)

Headlong (by laluica)

Headlong – What Happens When the Heart Just Stops (trumpet solo only) (by missnr45)

Headlong (byMrCatstail)

Santa Maria (by Murdererer)

Disappointed (by laluica)

Mighty Sword (by ThreadTheLightUK)

Stars are Underground and Revelate (by Murdererer)

Revelate (by laluica)

Revelate (by ThreadTheLightUK)

Do Right Woman, Do Right Man and An Raibh Tú ar an gCarraig and See-Line Woman (by ThreadTheLightUK)

Gold (by ThreadTheLightUK)

Gold (by RobbiC)

Gold (by SeanClinton123)

An Raibh Tú ar an gCarraig (Were You on the Rock) (by SeanClinton123)

Forever Young (by SeanClinton123)

Heyday (by melissamvm)

Heyday (by ThreadTheLightUK)

Heyday (by 0446696)