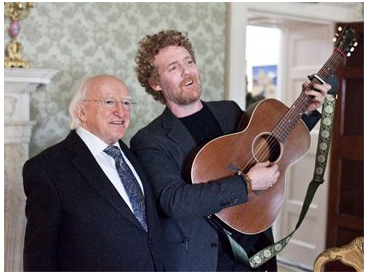 This Sunday, St. Patrick's Day, watch Glen Hansard & Lisa Hannigan perform for President Higgins on an RTE Special Glaoch – The President's Call. "Through words and music, Glaoch – The President's Call, celebrates Irishness, Irish creativity and its reach and impact across the world."
Glaoch will be broadcast worldwide at 9:30 p.m. GMT on 17th March on RTE.ie, RTÉ News Now and RTÉ YouTube and on 18th March on RTÉ One, RTÉ Two and RTÉ Radio 1 Extra.
The special programme features President Higgins in conversation with Bono, Séamus Heaney, Druid Theatre's Garry Hynes and playwright Tom Murphy and Christy Moore. There are music performances from Steve Cooney, Glen Hansard, Lisa Hannigan, Martin Hayes, Imelda May, Christy Moore, Róisín O, Iarla O Lionaird, Peadar O Riada, David Power and The Script.