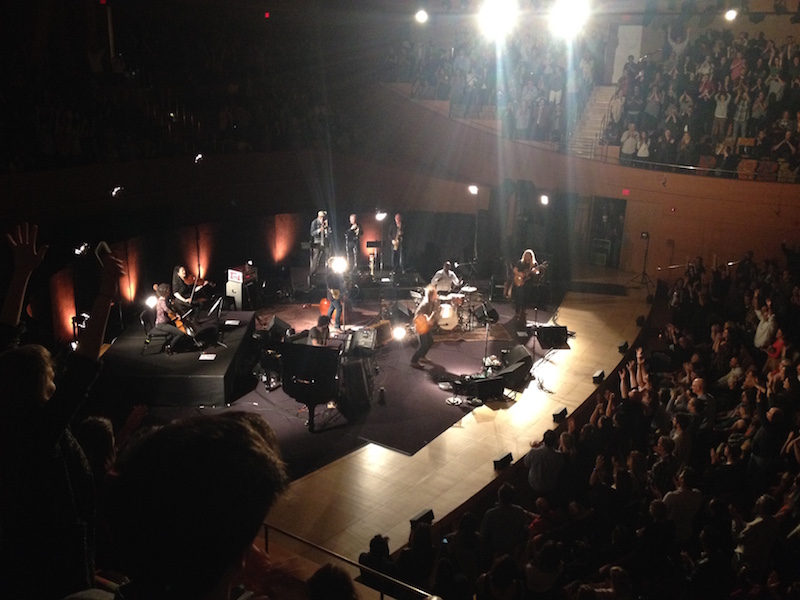 Support: Aoife O'Donovan
Main Set: Grace Beneath the Pines*,  Winning Streak, My Little Ruin, When Your Mind's Made Up, Bird of Sorrow, Stay the Road*, Back Broke, Come Away to the Water, Paying My Way, Autobahn (Kraftwerk) – Talking With the Wolves, McCormack's Wall, Lowly Deserter, Way Back When, High Hope, This Gift
First Encore: Say it to Me Now*, Gold* (Interference) – Crazy Nights* (KISS), Falling Slowly**, The Auld Triangle*** (Brendan Behan), Her Mercy
Second Encore: Passing Through**** (Leonard Cohen)
*off-mic
**with Aoife
***verses by Glen, Rob, Brad, Earl, Aoife, Jeanie & Simone, Mic, Leon & Fiacre
****verses by Glen, Rob, Brad, Ronan's trumpet, and Curtis' trombone
[Thanks to Courtney for the setlist and notes.]
Band: Glen Hansard (guitar, mandolin, piano), Rob Bochnik (guitar, mandolin, bozouki), Brad Albetta (bass), Earl Harvin (drums), Thomas Bartlett (piano), Michael Buckley (saxophone, flute), Ronan Dooney (trumpet), Curtis Fowlkes (trombone), Jeanie Lim (viola), Simone Vitucci (cello)
Reviews:
The Lefort Report (with pics)
Artist Direct
buzzbands
mxdwn
Owl and Bear
Notes (by Courtney): During last year's truncated set at the Hollywood Bowl, Glen had promised he would make it up to us. 2 ½ hours? We'll take it. Disney Concert Hall is a pretty magical space, but "we're too loud for it," the singer said, and he was right. Thankfully, the sound issues were (mostly) resolved, as was the slightly timid crowd (by standing up and shaking our limbs "like octopuses"), and the night flowed beautifully.
Glen called back-row dwellers down to empty seats in the front, told stories of death and love and misdeeds, gently caressed his own arse – you know, the usual.
The audience ate up Jeanie's 'McCormack's Wall' viola solo, Curtis' rambunctious 'Lowly Deserter' trombone solo, and this section (après limb-shaking, of course), caused some to dance in the aisles.
It seems it wouldn't be a post-2007 Glen gig in LA without a celeb sighting: Paul Stanley of KISS was in the house, and got a bit of "CRAZY, CRAZY NIGHTS!" shouted at him from the organ loft, where Glen and Rob sang a gorgeous, mic-less 'Gold'. Props to Rob are in current order – his harmonies are all-around stellar.
'Auld Triangle' demanded vocals from band and crew, including Jeanie and Simone laughing their way through the "female prison" verse, support act Aoife O'Donovan knocking one out of the park, and Leon and Fiacre singing "raise me wages" in unison, back to back (with arms outstretched) to acknowledge those seated behind the stage. It was a great vibe, and even after the house lights came on, Glen snuck the band back out for a gentle rendition of "Passing Through" to send us off into the night.
We'll just leave this here:

Video:
Passing Through (by TheLefortReport)