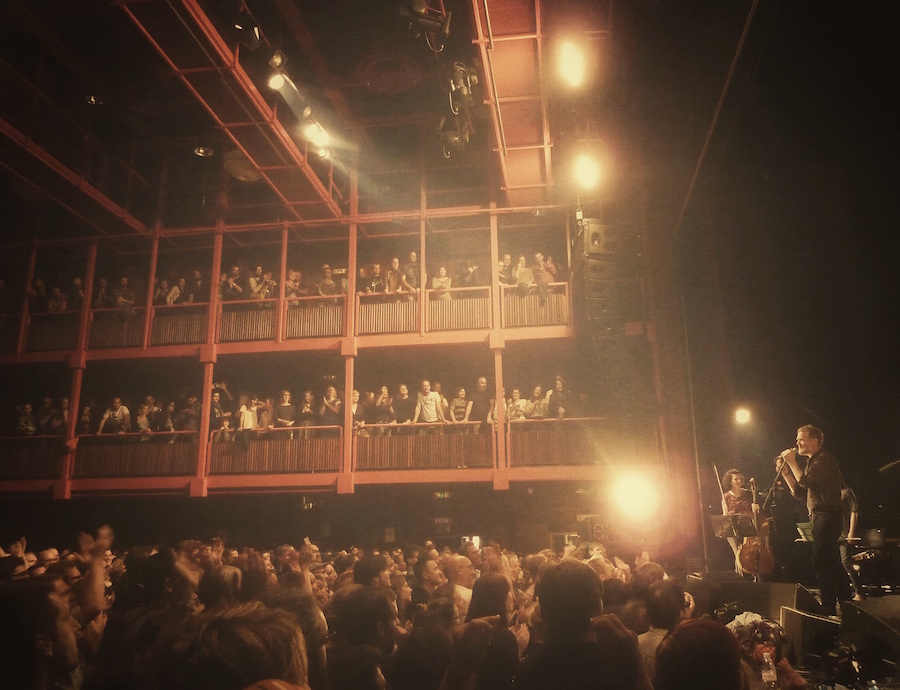 Support: Mark Geary with Grainne Hunt
Main Set: Philander, Just to Be the One, Winning Streak, Maybe Not Tonight, Love Don't Leave Me Waiting, When Your Mind's Made Up, Bird of Sorrow, What Happens When the Heart Just Stops – Bad Bone*, 930 / White Sulfur** (Jason Molina), Come Away to the Water**, My Little Ruin, Paying My Way, Talking With the Wolves*** – Riders on the Storm (The Doors), Lowly Deserter, Wedding Ring****, Her Mercy
Encore: Falling Slowly*****, Say It to Me Now, Stay the Road, Heyday (Mic Christopher), Devil Town (Daniel Johnston)
*Glen solo
**Glen with piano + bass
***Leon on shaker
****Curtis on vocals
*****with little girl from audience
[Thanks to Fleur for the setlist, notes & photos. Check out her new photography website at www.melbourneflowerphotography.com!]
Band: Glen Hansard (guitar, mandolin, piano), Rob Bochnik (guitar, mandolin, bozouki), Brad Albetta (bass), Earl Harvin (drums), Romy (piano), Michael Buckley (saxophone, flute), Ronan Dooney (trumpet), Curtis Fowlkes (trombone), Jeanie Lim (viola), Simone Vitucci (cello)
Notes (by Fleur): Tucked away in the historic heart of Brussels is tonight's venue – Ancienne Belgique. It's a lot larger than it looks from the outside and holds around 2,000 people on various levels. I haven't been in a Belgian crowd for quite some time and am reminded during Mark Geary's opening set of how respectful (read: quiet) they are compared to other European audiences. The lack of noise should not, however, be read as indicating any kind of dis-interest in the proceedings – these people ARE listening and appreciating everything that is happening onstage. It's an ideal gig scenario for a concertgoer like myself because you can give all your attention to the art without any distraction.
There's a pretty strict curfew tonight of 10.30pm, and with an 8.30pm kick off Glen and the band need to crack on with the setlist to get
through as many tunes as possible.
Here's a few thoughts on the set I noted down:
* There's a new touring band for the Euro segment of the 2015 Didn't He Ramble tour. Along with Glen band regulars Rob Bochnik, Curtis
Fowlkes, Ronan Dooney and Michael Buckley there are same new faces including – Brad Albetta on bass (who has toured with Glen in the US), Earl Harvin on drums, Romy on piano and Jeannie and Simone on the strings. It's always interesting to see the change in dynamic and
excitement that new players bring to a band and I am looking forward to seeing how this new group work together throughout the remainder of
this tour. It's evident that the band has a good grasp of Glen's new tunes which sound well rehearsed and flow beautifully throughout the
show.
* After 'Maybe Not Tonight', Glen endeavours to explain to the audience the focus of his song-writing for Didn't He Ramble (DHR) – being an (almost) absolute rule not to use the words "love" and/or "heart" in any of the songs. This was, Glen admits, a difficult task given that those two words pretty much form the basis of a singer-songwriter's lyrical repertoire. In order to train himself out of the use of those words, Glen tells us he swapped those two words for another word. Now I don't wish to ruin the versions of Glen's songs in anyone's head so I'll refrain from explicitly setting out the word here, but suffice to say it was a word for part of the male anatomy which brings with it a completely different connotation to that given by the words "love' or 'heart". Glen then sought to give examples of the use of this word in other song titles – Bon Jovi's 'You Give Love a Bad Name' will now never be the same for me. As you can expect, Glen's explanation leads to an interesting scenario when introducing the next song – 'Love Don't Leave Me Waiting'. The audience (and Glen) get a good chuckle out of this and it remains a running joke throughout the remainder of the set.
* Following 'When Your Mind's Made Up', Glen changes his guitar and whilst introducing the next tune ('Bird of Sorrow') notices something inside it. He up-ends the instrument and pulls out a piece of paper trapped within its body. It's a Notice of Inspection from Airport Security which Glen had not noticed before and which seems to have been there since his recent return from the US. Glen considers that a somewhat cheeky effort by the security person in question and dedicates 'Bird of Sorrow' to their sister as a form of payback.
* There is a quiet section after the first six/seven tunes and most of the band leave the stage leaving Glen either by himself or just with bass and piano for the next few songs. There is a written setlist for each show, but Glen is often want to go 'off piste' depending on the mood and vibe from the audience. A spontaneous change to the planned setlist tonight grants us a gorgeous acoustic version of Frames classic 'What Happens When the Heart Just Stops', and a soul-wrenching cover of Jason Molina's 'White Sulfur' (from Glen's recent Jason Molina tribute EP 'It Was Triumph We Once Proposed') – I will take both of those thank you – all hail random setlist changes!
* The crowd are provided with a treat for 'Wedding Ring' when Curtis Fowlkes makes his way from behind the drum kit to take the lead
vocals. Curtis' smooth, silky voice plays over the crowd and they are pretty much putty in Curtis' hand by the end of the song. There's just
something about Curtis crooning "There's a wildcat in you woman, a wildcat on the prowl" that seems to tip people over the edge.
* Given the strict curfew, the normal leaving the stage for an encore is abandoned and everyone remains to keep ploughing through some more tunes. There's a real 'awwwh' moment when Glen  notices a young girl in the audience and asks her if she wants to come up and sing 'Falling Slowly' with him. The microphone has to be significantly re-adjusted to get down to her level and she has a crack at the duet with Glen with his assistance and the crowd's encouragement. That song just keeps on giving.
* Did I mention that Glen likes to spontaneously change the setlist during the show? Well he does it again with the penultimate tune of the night. He randomly starts Mic Christopher's 'Heyday' and it is immediately evident that the new members of the band haven't yet been introduced to this song (read: have possibly never heard it!) and so Glen is required to call out the chord changes during the song to give them a opportunity to participate. I have a brief flashback to Graham Hopkins from 'In the Deep Shade' explaining Glen pulling a similar stunt with him on Frames tune 'Monument'. Glen's spontaneity is for all to enjoy and that clearly applies to the band members as much as the audience!
Over and out from Brussels.
Reviews:
DeMorgen – 4 1/2 Stars (in Dutch)
Knack – 4 Stars (in Dutch)
daMusic (in Dutch)
Photos:
some below by Samuel Letecheur
& by Lieve Boussauw
& by Caroline Vandekerckhove
& by daMusic
(and Cherie's set list pic!)

Video:
Love Don't Leave Me Waiting (by IlseWolf91)

When Your Mind's Made Up (by tuxbros)

What Happens When the Heart Just Stops – Bad Bone (by sinead meehan)

Come Away to the Water (by sinead meehan)

Wedding Ring (by sinead meehan)

Falling Slowly (by sinead meehan)

Say It to Me Now (by sinead meehan)

Heyday (by sinead meehan)

Paying My Way / Heyday / Bird of Sorrow / What Happens When the Heart Just Stops – Bad Bone / Falling Slowly / Stay the Road / Just to Be the One (by G Piano)