Support: Ye Vagabonds
Photo by Myles O'Reilly
Main Set: Grace Beneath the Pines, Winning Streak, My Little Ruin, When Your Mind's Made Up, Bird of Sorrow, What Happens When the Heart Just Stops – Bad Bone*, Back Broke**, The Moon***, McCormack's Wall, Lowly Deserter, Way Back When, Autobahn (Kraftwerk) – Talking With the Wolves**** – Transmission (Joy Division), High Hope, Hold On Magnolia (Jason Molina), This Gift
Encore: Say It To Me Now***** – Gold***** (Interference), Falling Slowly, Didn't He Ramble, The Auld Triangle******, Her Mercy
*with Rob and Romy
**Glen solo
***with Romy
****Leon on shaker
*****verses by Glen, Rob, Brían & Diarmuid Mac Gloinn, Brad, Earl, Romy, and Fiacre & Leon
[Thanks to Fleur for the setlist and notes.]
Band: Glen Hansard (guitar, mandolin, piano), Rob Bochnik (guitar, mandolin, bozouki), Brad Albetta (bass), Earl Harvin (drums), Romy (piano), Michael Buckley (saxophone, flute), Ronan Dooney (trumpet), Curtis Fowlkes (trombone), Jeanie Lim (viola), Simone Vitucci (cello)
Review: Music News (5 out of 5 stars)
Notes & Photos (by Fleur): Ahhh a hometown show to end the European 2015 Didn't He Ramble Tour – yes please!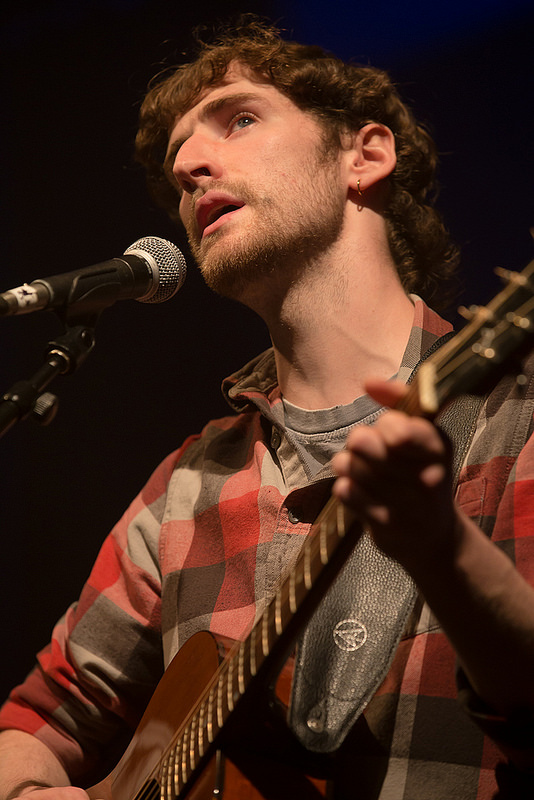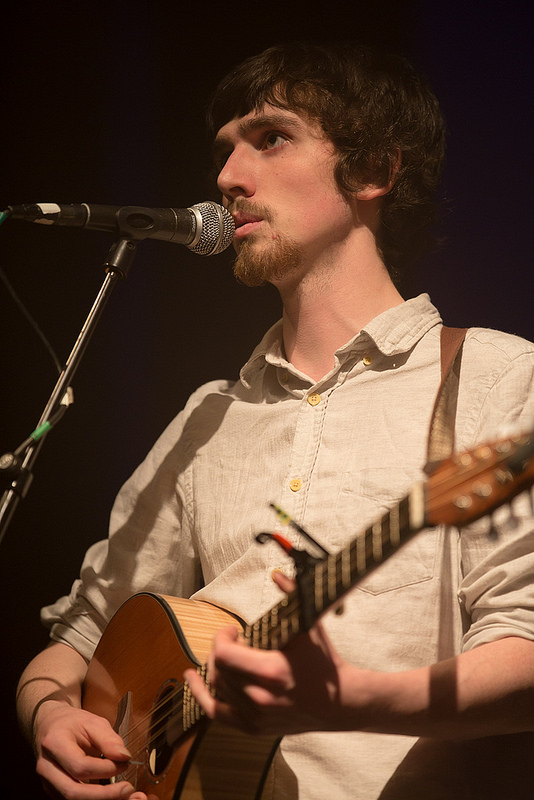 The Shepherd's Bush Empire (or the SheBu as us locals call it) is one of the most renowned venues in London. It was built over 100 years ago as a music hall and was later used by the BBC for television shows so it has a real old-school vaudeville feel to me. I have frequented this venue many, many times and all sorts of artists have played here – from Charlie Chaplin to Pearl Jam. It runs over four levels (a GA floor and then three levels of seating) and the sound is generally always great so I'm looking forward to this last show of the tour.
The openers for this show (and the last three) are brothers Brian and Diarmuid Mac Gloinn – known as Ye Vagabonds. You would be forgiven for not having heard much about these lads until now. They were in fact 'discovered' by one Myles O'Reilly last year and up until very recently, the only available recordings of them were via Myles' videos (NOTE: Myles was in attendance over the last four shows of this tour so fingers crossed for another of his amazing tour films). They have some lovely acoustic harmonies which lean heavily on traditional Irish folk music, and their set includes a number of classic Irish songs along with their own tunes (of which my personal favourite is When We Were Trees) . They have just released an EP, Rose & Briar and are looking to release an album so you'll be hearing more from these guys soon – keep an eye out!
Now it has to be said that London crowds have in the past been known to be somewhat difficult on occasions for Glen – either in his solo guise or as the leader of the Frames – so it is fair to say there is always some trepidation because you just never know exactly what you're going to get! Fortunately tonight, the crowd are in superb form and are exceptionally respectful and well-behaved and it means that everyone both on and off stage is treated to a brilliant night.
Here's some tidbits from the show:
* I have, as yet, not made reference to the fabulous tune that is 'My Little Ruin'. This very closely follows 'Her Mercy' as my favourite track from DHR. Glen describes this song as a story about someone endowed with great gifts who manages on every occasion to "snatch defeat out of the jaws of victory". I actually see it as a testament to true friendship – there is a declaration of loyalty, heart-felt encouragement and the defence of a mate's integrity despite their repeated failings. This intent is matched with a rousing vocal performance from Glen which has a completely uplifting effect. Great tune!
* One of my highlights early on in the set is the double-shot of Swell Season tunes – 'Back Broke' and 'The Moon'. The setlists throughout the Euro tour have of course been heavy on DHR tracks, but it is great to see that these tunes are still in the repertoire and it's a real treat to hear them back-to-back. Both are delicate songs, and this is the first outing for 'The Moon' on this tour as far as I am aware and Romy does a fantastic job harmonising with Glen.
* Towards the end of the main set, Glen ratchets up the emotion level with a gorgeous version of Jason Molina's 'Hold On Magnolia'. This song has not featured much in the Euro setlists this time round. It's worthy to note that a fair amount of patience and attention is required on the part of the audience to appreciate this song's full effect and I'm pleased to report that those in attendance tonight are up to the challenge and they embrace it on all levels – nice work London!
* Glen and Rob head out into the crowd again for the start of the encore. This time Glen seems to magically appear on the balcony on the first level. The spot he's chosen is right in the corner which gives most of the crowd an opportunity to see him launch into an off mic version of 'Say It To Me Now'. He is shortly thereafter joined by Rob for 'Gold' and there's some man-love going around with kisses from Glen for Rob – can you feel the love tonight?
* The night (and the 2015 Euro tour) is concluded with what I consider to be the lynchpin tune on DHR, 'Her Mercy'. This is the first time that Glen has ended a show on this tour with a song of his own. There's a feeling of a preacher delivering a sermon to an expectant congregation and the audience backing vocals for the chorus are loud and proud. The crowd are fully invested and there are "mercy hands" all round on several occasions. It's a brilliant finale and generates a huge high for everyone in the building.
Big love and thanks to Glen, the band and the crew for a raft of amazing shows over the last few weeks. The Americans are in for a real treat in November if these shows are anything to go by!
Photos:
more by Fleur Neale at Flickr
By John O at Flickr
Video:
Grace Beneath the Pines (by Sue Pinson)

Winning Streak (by Sue Pinson)

My Little Ruin (by Sue Pinson)

When Your Mind's Made Up (by Andrew Beale)

Back Broke (by Sue Pinson)

McCormack's Wall + intro (by Sue Pinson)

Lowly Deserter (by thekubinator)

Autobahn – Talking With the Wolves – Transmission (by Sue Pinson)

Hold On Magnolia (by Sue Pinson)

This Gift (by Andrew Beale)

Say It to Me Now – Gold (by Sue Pinson)

Falling Slowly (by Sue Pinson)

The Auld Triangle (by Sue Pinson)

Her Mercy (by Sue Pinson)

Her Mercy (by Ianwas VIRB)

Her Mercy (by Nauris Sadovskis)