Support: Aoife O'Donovan
Main Set: Grace Beneath the Pines, Just to Be the One, Winning Streak, My Little Ruin, When Your Mind's Made Up, Bird of Sorrow, Present Tense (Pearl Jam), Paying My Way, Back Broke, McCormack's Wall, Lowly Deserter, Didn't He Ramble, Way Back When, Feeling The Pull, This Gift, Falling Slowly
First Encore: Say It to Me Now,  Gold (Interference), The Auld Triangle* (Brendan Behan)
Second Encore: Her Mercy
*verses by Glen, Rob, Brad, Earl, horns in three part harmony, Jeanie & Simone, Aoife, Mic, and Leon & Darragh & Fiacre
[Thanks to Courtney for the setlist and notes.]
Band: Glen Hansard (guitar, mandolin, piano), Rob Bochnik (guitar, mandolin, bozouki), Brad Albetta (bass), Earl Harvin (drums), Thomas Bartlett (piano), Michael Buckley (saxophone, flute), Ronan Dooney (trumpet), Curtis Fowlkes (trombone), Jeanie Lim (viola), Simone Vitucci (cello)
Notes & Photos (by Courtney):
Pre-show, the colours of the French flag lit the curtains of the Moore. (Nice one, Darragh.) The gig started solemn, sorrowful, nearly somber. Not much was said, but then a whole lot was said, and the mood began to shift. Glen spoke quite a bit about Eddie Vedder  – partly because Pearl Jam once filmed a video here – but also because the attack at the Bataclan in Paris (where The Swell Season have played) recalled Glen's experience of a suicide at one of their shows. It was this incident that prompted Eddie to reach out, and friendship was born. When recording 'Sleepless Nights' for Eddie's Ukulele Songs record, on a similarly rainy November night five years ago, Eddie instructed Glen to sing to the soul who'd taken his life, and Eddie would do the same for those lost at the Pearl Jam gig in Roskilde. In this spirit, Glen taught us the backing vocals to 'Back Broke', and had us sing for those killed the day before in Paris. Not sure that anybody else saw this, but they rose above the stage in shining points of light.
We were in rather uncharted territory, not so much following the setlist, and after this collective exhale, took a left through somewhat of a rowdy exorcism, wound past an amorous balcony exchange, and landed with what might have been the best version of 'Auld Triangle' ever. Each band and crew member (minus only one) had their moment, but the horn section took home the prize. A verse specifically for the occasion, sung in three part harmony:
On a Seattle evening
The rain was beating
As we sang our songs
In a hall so grand
And then we danced, waving our hands in the air. Mercy, mercy.
---
Photos by Thomas & Mic from instagram.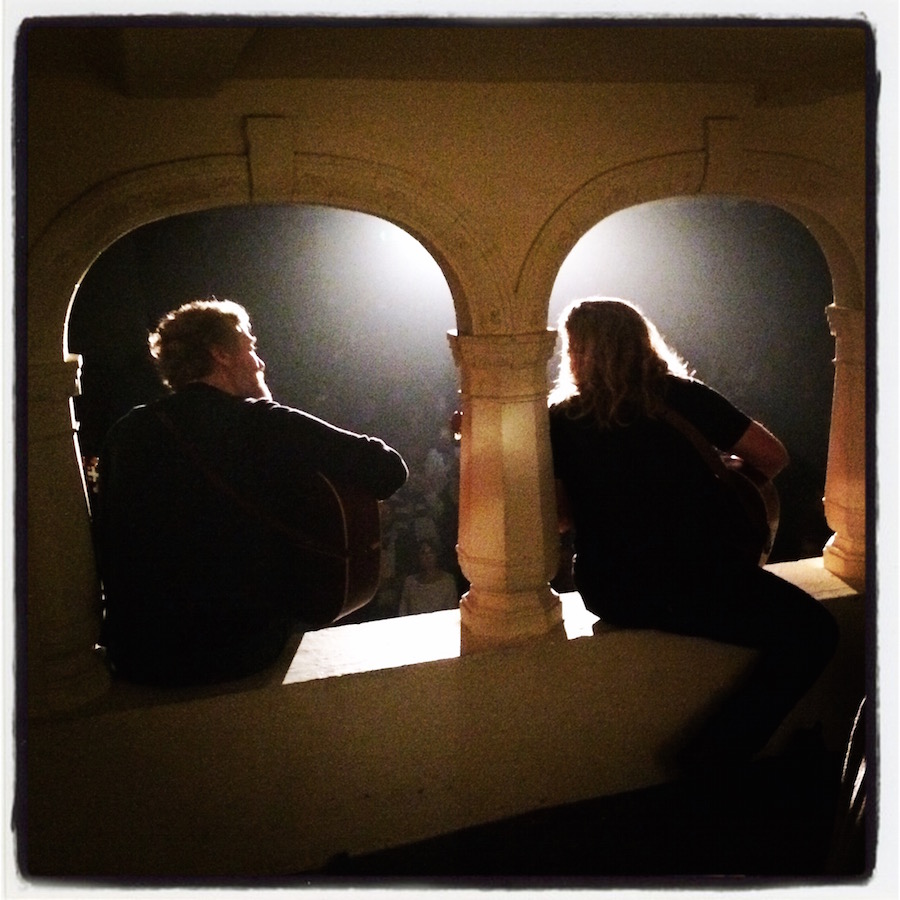 Video:
My Little Ruin (by Marvolphotography.com)

Bird of Sorrow (by Marvolphotography.com)

Present Tense (by MrBubbrub)

Feeling the Pull (by Marvolphotography.com)

Falling Slowly (by Marvolphotography.com)

Gold (by Ebonyzer)

Gold (by Sara Zuchetto)