Support: The Lost Brothers
Main Set: Just to Be the One, My Little Ruin, Winning Streak, When Your Mind's Made Up, Bird of Sorrow, Leave* – Love Reign O'er Me* (The Who), Revelate, What Happens When the Heart Just Stops – Bad Bone**, Come Away to the Water***, Love Don't Leave Me Waiting – Autobahn (Kraftwerk), Paying My Way, McCormack's Wall****, Lowly Deserter, This Gift*****, Her Mercy, Stay the Road, Say It to Me Now*,
Encore: Falling Slowly, Grace Beneath the Pines, Didn't He Ramble, High Hope, Corrina, Corrina****** (Bob Dylan), The Auld Triangle******* (Brendan Behan), Passing Through******** (Leonard Cohen)
*Glen solo
**with Rob, Brad and Earl
***with Brad and Romy
****with Rob and Romy
*****with Charlotte Blokhuis
******by The Lost Brothers with Glen on bass
*******with verses by Glen, Rob, Brad, Earl, Romy, Oisin and Simon
*******with verses from Glen, Rob, Romy and Brad – onstage then off into the crowd
[Thanks to Fleur and Anne-Kathrin for the setist.]
Band: Glen Hansard (guitar, mandolin, piano), Rob Bochnik (guitar, mandolin, bozouki), Brad Albetta (bass), Earl Harvin (drums), Romy (piano), Michael Buckley (saxophone, flute), Ronan Dooney (trumpet), Curtis Fowlkes (trombone), Jeanie Lim(viola), Simone Vitucci (cello)
Review: Find A Song Blog
Notes & Photos (by Fleur – see more photos here):
We locate tonight's venue (Täubchenthal) out amongst the derelict buildings of what seems to be a former industrial area of Leipzig. There doesn't appear to be much else out here other than some large bulk-buy warehouses and some other out-of-they-way small clubs. I love finding a semi-hidden spot like this in an unexpected area as such places always seem to hold within them a significant amount of creative soul not found in more established venues. In my experience, this is something distinctly German and which artists and audiences readily respond to.
Autumn is well and truly on in Leipzig and it is fair to say that we are somewhat freezing our nips off waiting outside for the doors to open as the temperature drops to around 2 degrees (centigrade). There is a very long line to get in which is the very first indication that tonight's crowd are keen and dedicated to the music they are about to engage with (more on that later).
After entering the venue and warming up with a nice glass of rot wein, the proceedings kick off with an opening set from the The Lost Brothers. The harmonies that Oisin and Mark ease into are indeed stunning. The warm effect produced by two voices and two guitars is accepted gratefully by the crowd (which is almost at capacity) and my highlights of their set are a gorgeous cover of the Everly Brothers classic 'Dream' and the song which closes out their set 'Under the Turquoise Sky' from their first record, Trails of the Lonely Parts 1 & 3.
Glen's set starts shortly before 8.45pm and for tonight's show I have taken up a different position to my norm and headed upstairs to the first level balcony which provides a great vantage point to view the whole band and the audience.
Here are some of my thoughts on the set:
* There's another different song to open the set tonight (which is the first of a trio of songs from DHR), 'Just to Be the One'. The horns immediately kick in from the start and the gentle groove of the tune is achieved by the band fairly effortlessly. I have to admit that this track did not instantly grab me upon my initial listen but it is growing on me – although I am not sure I am yet over the fact that Glen wrote it for his dog 😉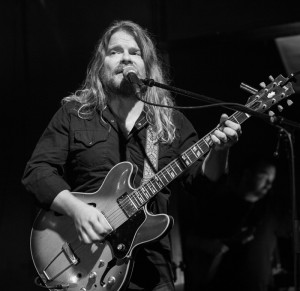 * There's a little nod to influential German band Kraftwerk at the end of 'Love Don't Leave Me Waiting' with a cheeky tag of 'Autobahn'. The crowd offer up a chuckle but I am not sure if it is the about the song itself or Glen's faux German affectation of the lyrics.
* 'McCormack's Wall' is one of my favourite tracks from DHR and what I find most attractive about it is the dichotomy between the simple, elegant melody and the lyrics which seek to somewhat romanticise what happens when a woman you respect and care for gets "very upset with you because you are a dick" (that being a direct quote from Glen himself). Although it is evident there has been some poor form, there is an admission and an apology and I am not sure there is any more that can be asked of the wrongdoer after the fact. At the very least, this error in judgment has resulted in what can only in the end be described as a joyous traditional Irish tune (oh and Jeannie and Rob are fantabulous on the violin and bozouki respectively as they duel with one another at the end of the track!).
* It is at this stage that I have to mention how incredibly impressed I am with the Leipzig audience. The venue has the potential to be a very noisy room as the bar area is included within the main staging area. Throughout the show the crowd are both respectfully quiet and raucously loud at the appropriate moments, and they illustrate on a number of occasions (which includes several calls on their vocal ability by Glen) that their attention is solely on the band on stage. In particular, I can notice from my higher level vantage point they there is very minimal use of phones or recording devices going on below during the show and I am not sure there is much more an artist can ask for other than the undivided attention of his audience. This of course may have something to do with the venue itself and its location (and the type of concertgoer it attracts) but it is safe to say that this audience is leading the way as an example of how to behave at live shows – alles gut Leipzig!
* By way of example of the above excellent audience etiquette, 'Falling Slowly' is sung by the entire audience for its duration which has a real uplifting effect.
* My highlight of the night comes with the rocking performance of 'Didn't He Ramble' (you know that song that is the title track of the new record but isn't actually ON the record itself!). Glen has admitted struggling to find a version of this song he is happy with (which explains its absence from the record's track listing). He has described it as a dedication to his father which is meant to be without blame or judgment. The previous versions of this song that Glen has performed were acoustic with just Glen and his guitar – THIS is a whole different kettle of fish! Everyone on stage (and their instruments) is involved on this version. It is absolutely reminiscent of The Band and in my humble opinion it is quite clear that Glen has now found the 'Ramble' he is looking for.
* The show is concluded with a parting double-shot of 'The Auld Triangle' and 'Passing Through' – various members of the band and crew either volunteer or are encouraged to take verses in both songs. The stand out moments are Simon Goode's raincoat-clad verse in 'The Auld Triangle' and the band's foray into the crowd for the final choruses of 'Passing Through'. Glen and the band brought the music and the light and the Leipzig audience (which it was a pleasure to be part of) certainly brought the soul.
Video:
When Your Mind's Made Up (by koenau)

When Your Mind's Made Up (by sherpa43)

Bird of Sorrow (by Find A Song)

McCormack's Wall (by sherpa43)

Her Mercy (by koenau)

Say It to Me Now (by koenau)

Say It to Me Now (by sherpa43)

Falling Slowly (by koenau)

Falling Slowly (by sherpa43)

Passing Through (by koenau)