Main Set: Grace (Beneath the Pines), Love Don't Leave Me Waiting, Paying My Way, Stay the Road, My Little Ruin*, When Your Mind's Made Up*, Bird of Sorrow*, McCormack's Wall*, Wedding Ring*, Finally*, Talking With the Wolves*, Revelate*, Grand Orderly Design (Lethal Dialect)**, Her Mercy*, Come Away to the Water*, Races*, Falling Slowly* (with Alex Rickard from the audience), Drive All Night*
Encore: High Hope*, I Will (Dean Martin)***, The Auld Triangle* (with Jim, Gerry, Lethal Dialect, Mic, Mark O'Brien and Fiacre Gaffney)
*with Lorcan O'Dwyer on double bass
**with Lorcan, Glen & Mic on piano
*** with Fiacre Gaffney on vocals & guitar
[Thanks to Avril for the setlist.]
Notes & photos from Fleur (more photos here):

We are in the 'Mun tonight at a small 200 seater theatre within an arts and community resources centre called Axis. Axis was founded in 2001 and its purpose is to provide high quality arts experiences for the local community.
As a local Ballymun lad, Glen in fact performed at Axis at the same time last year and the funds raised from the show allowed around 15 young people from the area to professionally record their own tunes in the Axis basement studio and create an EP from these recordings. This was such a successful enterprise that Glen was invited back this year to allow another group of young locals the opportunity to undertake the same task.
As evidence of the success of last year's group, the opener tonight is Joe Clear who produced (and contributed to) the EP. Joe is absolutely delighted to have an opportunity to play some of his own tunes. My personal favourite is 'You Got the Map' (which I understand appears on the EP) which is a call to take up opportunities and shape your own life through them. He is very warmly received by the crowd – it's great to see the worthy results of this local fundraising.
This is billed as a solo show so we are not expecting any additions to Glen's presence on the stage, but we are pleasantly surprised by a few guests who add further charm to an intimate night.
Here's some tidbits to give you a flavour of the night: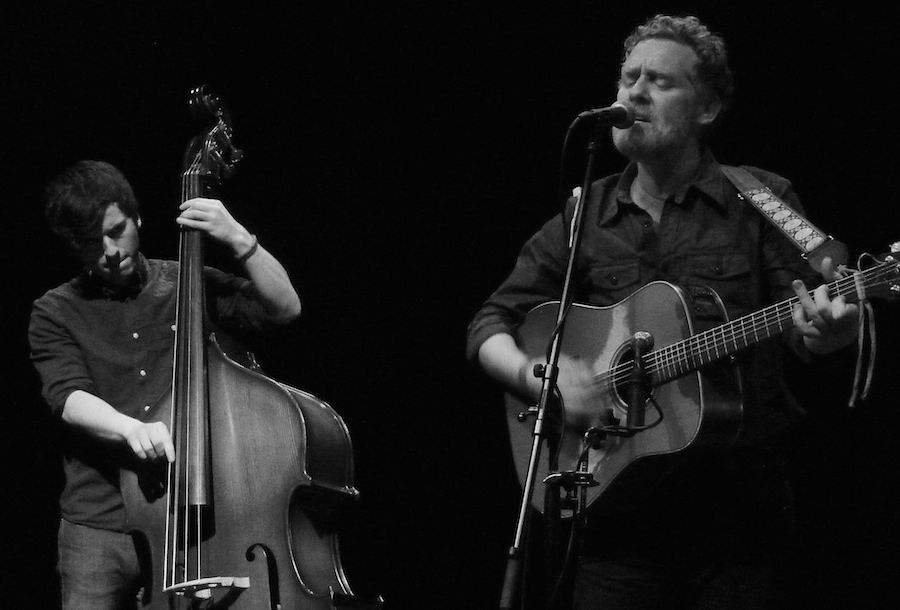 * Tonight is an opportunity for Glen to run through some new songs on his own without the band. 'Stay the Road' is described as song that "fell out of the guitar" one night while Glen was on tour with the lads in the north of Germany. The touring had apparently got the best of the group and they were all spent and unable to raise the energy to do very much at all, but this song managed to rise out of Glen's consciousness through the guitar despite his weariness. Now I don't know about you, but the regularity in which these amazing songs seem to "fall out" of Glen's guitar is something I would certainly be jealous of if I was a songwriter (yes you may mutter "lucky bastard" under your breath)
* Before 'Bird of Sorrow', Glen introduces a mate who is going to help him out with the next few songs – enter young Lorcan O'Dwyer on double bass. Glen says that he and Lorcan haven't really practiced the songs he is going to play but he's confident that Lorcan can sort it out on the fly. Glen tells Lorcan that the next tune is in B and 3/4 time and that he'll meet him at the end of the second verse. Not exactly what you'd call a full run down but it is enough for Lorcan to step in, and let me tell you he nails the accompaniment. It's hard to believe but these songs seem to have an even greater sense of intimacy with the inclusion of Lorcan's stripped back bass lines.
* Following a looped-up 'Talking With the Wolves', Glen relays a hilarious story about a friend of his living in New York who was the recipient of an undesirable Christmas present. Having picked the said item up from the Post Office and immediately identifying that same was unwanted, the owner offered it up to what he thought was a homeless person in Washington Park. After some debate about the specifics of the item, the alleged homeless person declined the offer. It was only afterwards that the identity of the alleged homeless person was revealed – Irish playwright/poet/novelist Samuel Beckett. Classic case of 'you shouldn't judge a book by its cover' (or even 'you can meet anyone in New York'!).
* There's a slight change of pace with the introduction of Lethal Dialect who ramps up the free-flowing nature of the night a further notch. The rapper has been opening for Damien Dempsey and he greatly impressed Glen at Damo's recent Vicar Street show and was invited along to jam on his new track Grand Orderly Design. Glen's on guitar, Lorcan's on bass, Mic's on piano and Lethal (aka Paul) is cutting it up on vocals – it's all happening! There's no doubt that Lethal is an MC to be reckoned with – look out for him because he clearly doesn't just hang in Ireland's hip-hop world.
* There's a couple of really nice audience-led moments towards the end of the night with 'Races' (which is a request from the crowd) and 'Falling Slowly' with Alex who answered Glen's call for a duet partner. Apparently "Bally-fookin-Mun is in da house" and I suspect that there are at least of a couple of Glen's old school chums in the crowd and he dedicates 'Drive All Night' to all the head teachers who helped him and gave him music.
* The multi-talented Fiacre Gaffney helps round off the evening with a smooth duet with Glen on 'I Will' (an effortless tune covered most famously by Billy Fury and Dean Martin) – I've said it before but I'll say it again – can all these Irishmen sing? Glen and Fiacre then launch into 'The Auld Triangle' where we have verses from Glen, Jim (from the audience), Gerry (Glen's trusty sound man), Mic, Mark O'Brien (the director of Axis) and finally Fiacre. That's a good 3+ hours of Ballymun Christmas cheer – all in favour of a repeat for next year say aye!
Video:
Bird of Sorrow (by Avril Vickery)

Revelate (by Lily Burke)

Falling Slowly (by carmen198855)

The Auld Triangle (by Martin Rooney)