All proceeds from this show benefit Peter McVerry Trust. PMV Trust is committed to reducing homelessness and the harm caused by drug misuse and social disadvantage. They provide low-threshold entry services, primarily to younger persons with complex needs, and offers pathways out of homelessness based on the principles of the Housing First model and within a framework that is based on equal opportunities, dignity and respect. You can find out more at their website.
Note from the band: We were able to donate €21,901 to each of the charities due to the kind efforts of everyone involved, audience included…Many many thanks for showing your support. You can still donate to both organisations:
Dublin Simon Community
Peter McVerry Trust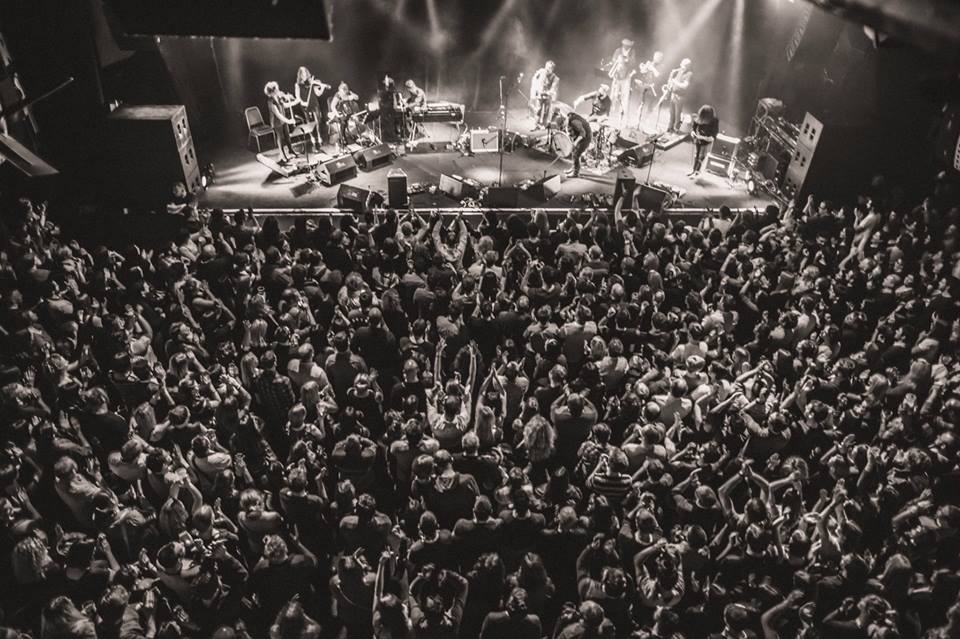 Photo by Dara Munnis.
Support Act: Lisa O'Neill
Main Set: Grace (Beneath the Pines)*, This Gift, My Little Ruin, Love Don't Leave Me Waiting, Talking with the Wolves** – Riders on the Storm (The Doors), Philander, When Your Mind's Made Up, Bird of Sorrow
Glen solo: Paying My Way, Leave – Love Reign O'er Me (The Who), Come Away to the Water, Stay the Road (written for Ezra)
Second Set: Lowly Deserter, Song for Mic Geraghty (made up ditty by Glen), High Hope***, Winning Streak,  Wedding Ring****, Fitzcarraldo, Revelate, McCormack's Wall, Her Mercy
First Encore: Song of Good Hope*****, Falling Slowly*****, Here in the Wild – August Wells, Be Brave and Believe – Declan O'Rourke, You Won't Be Lonely – Dermot Kennedy, Window Shopping for Faith – Mundy, Sing All Our Cares Away – Damien Dempsey
Second Encore: Don't Do It (Marvin Gaye/The Band), What the World Needs Now (Burt Bacharach)******, The Auld Triangle (Traditional)*******
*Glen on piano
**Leon on shaker
***with Grainne Hunt
****Curtis on lead vocals
*****Glen solo with strings
******Lisa O'Neill on lead vocals
*******verses by Glen, Damien, Declan, Lisa, Joe, Gerry and Mic
[Thanks to Jackie and Fleur for the setlist.]
Band: Glen Hansard, Joe Doyle (bass), Rob Bochnik (guitar), Graham Hopkins (drums), Justin Carroll (keys)
Brass: Curtis Fowlkes, Michael Buckley, Ronan Dooney
Strings: Una O'Kane (Violin), Paula Hughes (Cello), Katie O'Connor (Violin)
Notes via Fleur Neale:
We are back at Vicar Street for what has become an annual event – a Christmas charity gig from Glen and the lads to raise money for a worthy cause. Monies raised from the show tonight will be going to the Peter McVerry Trust which has operated since 1983 and whose main purpose is to reduce homelessness in Ireland. This issue of homelessness has recently been at the forefront of public consciousness as a result of the tragic death only weeks ago of homeless man Jonathan Corrie on the steps of Ireland's parliament (Dáil Éireann). The death of a local man in such a public place (and so close to the politicians) has led to significant financial pledges being made by the Irish government to tackle the issue of homelessness.
In the meantime, funds are still urgently needed on a daily basis to assist with the accommodation of thousands of homeless people in Ireland every night. The Trust has indicated that the sharp rise in people requiring emergency accommodation is the result of (amongst other things) an increase in whole families becoming homeless. These families are not subject to addiction or violence but simply are not in a position to pay the rent or otherwise meet their everyday financial burdens. The funds raised tonight will therefore assist greatly in dealing with these rising emergency accommodation needs.
So not only do the punters tonight contribute towards a worthy cause, they also get to experience of one of Glen's epic Vicar Street gigs – everyone's a winner.
There are some fantastic performances from tonight's show – here are some highlights:
* The night opened with a brand new song (one of seven new/unreleased songs in the setlist) – 'Grace (Beneath the Pines)'. Glen sits himself down behind the piano and dishes out a lovely tune with the accompaniment of the band and string section. I am again impressed by the results of Glen stepping away from his trusty guitar and it's always great to hear the tunes Glen is working on. You never know which ones will make the cut for the next record and many often don't, but it's good to know the creative juices are consistently flowing. The other new/unreleased songs in the setlist were 'My Little Ruin', 'Paying My Way', 'Stay the Road', 'Lowly Deserter', 'Winning Streak' and 'Wedding Ring'. As we can't share these unreleased tracks on the Internet at this stage, I can only implore people to get along to one of Glen's shows to hear these new tracks – you won't be disappointed.
* The second song in, Glen introduces a brand new member of his instrument family – his new guitar which has been made by friend Rene. It has been hand-made from wood extracted from a church bench in Co. Down. Glen jokes about the many Protestant bottoms which have most-likely warmed the wood currently in his hands and notes that tonight is the guitar's first official outing. It sounds pretty good and Glen gives it a nice going over on 'This Gift'. I suspect it won't be long until Glen makes some trademark holes in this number!
* After 'Bird of Sorrow', Glen takes the opportunity to give us a few solo numbers. The first is new tune is 'Paying My Way'. Glen tells us that the story of this song is told by someone related to the narrator of the classic Frames track 'Lay Me Down'. It's about a man whose sole sense of pride in life comes from the fact that he has worked hard and paid his own way in life. It's just Glen and guitar but there's a part in the middle of the song begging for a solo of some sort – Glen calls out for anyone with an instrument to jump in but as there's no-one on stage with him the opportunity goes begging.
* Following a storming 'Lowly Deserter', Glen pays homage to one of the hardest working people in their crew – guitar tech, Jack of all trades and all-round good guy Mic Geraghty. Glen thanks Mic with a little made up ditty which includes the following lyrics:
"You fix me strings, you bring me things
You tune me when I'm down"
You gotta appreciate some impromptu love from the boss! G'wan Mic!!
* I feel the need to make special mention of the string section tonight. The mighty Colm Mac Con Iomaire is not with the band tonight and I think we can all agree that his shoes are very difficult ones to fill – but Paula, Katie and particularly Una do an outstanding job on the two Frames tracks ('Fitzcarraldo' and 'Revelate') – they rock hard!
* So it's not really a Glen charity gig without some special guest appearances and tonight is no different. I think what is slightly unexpected is the calibre of these guest performances – they are all amazing in their own way. Ken Griffin as August Wells glides into 'Here in the Wild' – it's ethereal and just plain gorgeous. He is closely followed by Declan O'Rourke with the uplifting tune 'Be Brave & Believe' – this has the required effect on both the crowd and those on stage with Glen and Rob swaying arm in arm at the end of the song. Surprise packet Dermot Kennedy is next – this busker absolutely slays the crowd with a heartfelt performance that would give Glen a run for his money. Great friend to Glen and the Frames, Mundy, then treats us to a new song 'Window Shopping for Faith' from his upcoming record (which people can help fund here) and then we get to sing all our cares away with the one and only Damien Dempsey (aka the Irish Superman). It's a stellar set of guests and performances which leaves us all wondering how it could possibly be topped!
* The penultimate song of the night is also a real highlight – it's a delightful cover of Burt Bacharach's 'What the World Needs Now' led by Lisa O'Neill. When the trumpet starts up at the beginning there is a collective joyful sigh of recognition from the crowd and a great singalong. It really fits the intention and purpose of the night and is a perfect way to (almost) end the night's proceedings.
There's been a great deal of money raised and a shedload of incredible performances – you can't really ask for more than that from a charity gig. Kudos to all the performers who gave their all and much respect to those at the Peter McVerry Trust doing their best everyday for Ireland's homeless.
Love Don't Leave Me Waiting (by ThreadTheLightUK)

Philander (by Avril Vickery)

When Your Mind's Made Up (by Boris B.)

Bird of Sorrow (by Boris B.)

Leave – Love Reign O'er Me (by ThreadTheLightUK)

Stay the Road (by Niko Records)

High Hope (by ThreadTheLightUK)

Revelate (by ThreadTheLightUK)

Here in the Wild (by Dara Munnis)

Here in the Wild (by Niko Springstein)

You Won't Be Lonely (Dermot Kennedy)

Sing All Our Cares Away (by ThreadTheLightUK)

The Auld Triangle (by irishmusiccentral)