Support Act: The Lost Brothers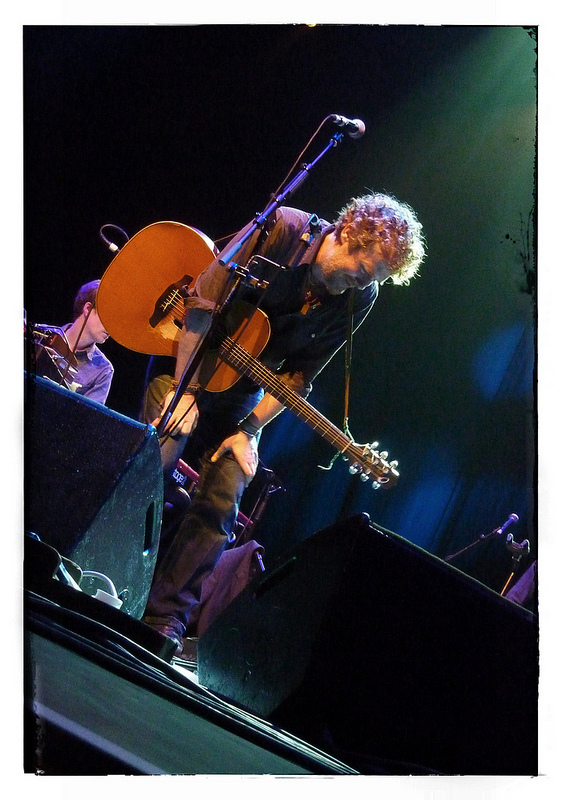 Main Set: You Will Become*, Maybe Not Tonight, Talking with The Wolves**, Love Don't Leave Me Waiting, Philander, When Your Mind's Made Up, Low Rising – Here Comes the Night (Van Morrison), Bird of Sorrow – When Heart is Open (Van Morrison), Leave***, Pennies in the Fountain***, In These Arms***, Astral Weeks*** (Van Morrison) – Smile*** (Pearl Jam), High Hope, Moving On – Maybelline (Chuck Berry), Santa Maria, Song of Good Hope****
Encore: Say it to Me Now – Gold (Interference), Falling Slowly*, This Gift*, Passing Through (Leonard Cohen)
*
Charlotte Blokhuis
on vocals
**Simon on shaker
***Glen solo
****Glen and Colm and strings
[Thanks to Fleur for the setlist and notes.]
Strings: Katie, Ruth and Ben
Additional Vocals: Charlotte Blokhuis
Notes (by Fleur): The Barbican is very well known as a classical (read: somewhat uppity) venue in London. It is often the place to be seen if you're in the arty crowd and there have certainly been some awe-inspiring performances there from all kinds of artists. Both The Lost Bros and Glen express their awe at playing in the building and it looks like they both drew something out of the performance history into their own shows. The Lost Bros stroll in and let fly with a 30 minute set of smooth tunes. My favourite song of their set is their re-working of 'Moon River' – it's gorgeous and fun. A nice start to the evening.
Glen and the lads step on stage very close to 9pm. Glen's dressed up for the occasion (keeping in line with the previously mentioned auspicious venue!) – he's sporting a lovely tailored suit jacket and is looking very suave. I am delighted to hear the band pushing further into R&R tracks with 'Maybe Not Tonight'. Glen says this is their first live attempt at this particular tune and I have to say I like it a lot more than the album version (cos it's not my favourite track on the record – gasp – did I just say that!). It benefits tremendously from addition of the Frames dynamic in my view. I am always interested to hear Glen's different explanations of the backgrounds to songs – they chop and (somewhat) change often – I assume in accordance with the author's feelings and intentions at that moment in time. Tonight we are told that 'Philander' is written about one of the aspects of your first love – and in this case it focuses on the erotic aspect – mmm ok -I am suddenly grateful for the lack of any further description!!!
Glen ditches the aforementioned suave jacket just after 'Low Rising' to hoots and whistles from the crowd – clearly the slightest thing can get this London crowd going! Glen comments that he'd have undressed more slowly if he'd known the crowd would enjoy it! Awwh now he tells us! 'Bird of Sorrow' is introduced as a song about how you feel about your family – although Glen quickly confirms that it is not about his brother (who is in the audience) – Glen says he has another song about the said brother but leaves us hanging as to which one it is! I am pleased to see Glen bring out the uke in his solo set – it has been a little while since we've seen it. Glen seems to be in two minds about which song he is going to play and when he appears to start 'Come Away to the Water' he quickly changes his mind and launches in to 'Pennies in the Fountain' – lucky those tunes have very similar chords! A gift of what appears to be a hand-made beanie is then thrown up to Glen from an audience member. Glen of course obliges and instantly puts in on although he notes that it is a bit too hot for it at the moment. It stays on for a few more songs in any event. Glen notes that this is the first show after a bit of a break for the band and that he finds it very interesting how the body has amazing muscle memory which allows you to step straight back into playing different songs without really thinking about them. I'm thinking maybe 22 years of gigging with the same guys may also have assisted with that!
After 'Astral Weeks' (with its now-frequent Pearl Jam 'Smile' tag), there is a call from the audience for Pearl Jam's 'Wishlist' (which Glen and the lads pulled out in Dublin in December). I think Glen thinks about it for a second and then realises he doesn't have a lyric sheet and moves on to the next tune. It is amazing how his participation in the Eddie Vedder shows has impacted upon the audiences at Glen's own shows in Europe – he has clearly won a whole new legion of fans in the space of his 30 minute opening slots – everyone is a winner here if you ask me! 'Santa Maria' is dedicated to people in Brazil and gets a huge cheer from the crowd when it starts. This is one of my all-time favourite Frames tunes and I don't think it's a tune that the average punter coming along to a Glen show would necessarily anticipate hearing. It has a hugely different dynamic to anything else in the setlist and it is one that pushes an audience's listening abilities. More of this please (like maybe some 'Headlong'!).  One of the other things I live for is a good flub and Glen gives us a pearler tonight by forgetting the words to – wait for it – 'Falling Slowly'. I love that both he and his duet partner Charlotte can laugh about it – although that doesn't stop Glen from giving himself the open-hand head slap at the end! Don't worry Glen I've seen Eddie forget the words to 'Even Flow' so it happens to all the greats!
A great, fun show with a better vibe than the Union Chapel gig in my opinion. The lads are lookin (and sounding) pretty darn good for their first gig of the year!
Reviews: Broken Biscuit Records (with photos), Alias Reviews, Huffington Post
Video:
You Will Become (by ThreadTheLightUK)

Maybe Not Tonight (by Sue Pinson)

Talking with the Wolves (by Sue Pinson)

Love Don't Leave Me Waiting (by ThreadTheLightUK)

Philander (by Sue Pinson)

When Your Mind's Made Up (by ThreadTheLightUK)

Low Rising – Here Comes the Night (by biggermanPL)

Bird of Sorrow – When Heart is Open (by ThreadTheLightUK)

Leave (by TuniNiuni)

In These Arms (by biggermanPL)

Astral Weeks – Smile (by Sue Pinson)

High Hope (by Sue Pinson)

Santa Maria (by ThreadTheLightUK)

Song of Good Hope (by Sue Pinson)

Say it to Me Now (by ThreadTheLightUK)

Gold (by ThreadTheLightUK)

Falling Slowly (by melbourneflower)

This Gift (by melbourneflower)

This Gift (by ThreadTheLightUK)

Passing Through (by ThreadTheLightUK)

Passing Through (by Sue Pinson)