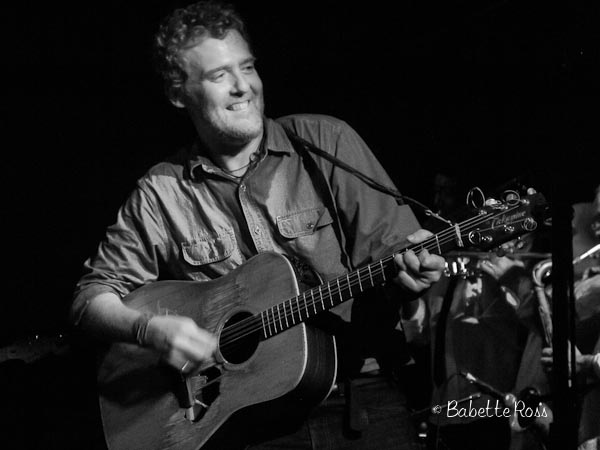 Support: None
Main Set: You Will Become, Love Don't Leave Me Waiting – Respect (Aretha Franklin), When Your Mind's Made Up, Low Rising – Sexual Healing (Marvin Gaye), Talking with the Wolves, Bird of Sorrow, Leave, Livin' on a Prayer (Child/Sambora/Bon Jovi), In These Arms, Astral Weeks (Van Morrison), High Hope, Fitzcarraldo, Revelate, High Horses
First Encore: Hairshirt (REM), Gold (Interference), The Rocky Road to Dublin (Traditional), Don't Do It (Marvin Gaye/The Band), The Weight (The Band), The Night They Drove Old Dixie Down (The Band), Until the Lion Learns To Speak (K'naan), Feeling the Pull, Blue Moon (Rogers/Hart)
Second Encore: Drive All Night (Bruce Springsteen) – Feels Like Rain (John Hiatt) – The Parting Glass (Traditional) – The Night They Drove Old Dixie Down (The Band)
Notes: Ross Turner joins in on shakers during 'Wolves'. Glen invites Desmond Child onstage to sing 'Livin' on a Prayer'. Once: The Musical cast members Paul Whitty, J. Michael Zygo, Erikka Walsh and Cristin Milioti do a gorgeous a capella version of 'Gold', and Paul Whitty remains onstage to sing 'The Rocky Road to Dublin'. Brendan O'Donough plays guitar on 'Don't Do It' and the verses of 'The Weight' are traded off between Graham, Brendan, Rob, Paul Whitty and Colm.  As at recent shows, Lisa Hannigan, John Smith and Ross Turner join in for 'The Night They Drove Old Dixie Down'. K'naan performs his song 'Until the Lion Learns to Speak'.
[Thanks to Jenna for the setlist and notes.]
Band: Glen Hansard, Colm Mac Con Iomaire (violin), Joe Doyle (bass), Rob Bochnik (guitar), Graham Hopkins (drums), Justin Carroll (keys)
Brass: Steve Bernstein, Erik Lawrence,  Curtis Fowlkes
Preview: Le Poisson Rouge
Reviews:
New York Irish Arts
CMJ
emusic blog
Photos:
Some great photos here by Elena at her blog (and in the gallery below) and some fabulous shots by Babette Ross at Flickr (and the gallery below) AND even more by Debra Reschoff-Ahearn at Flickr
Gorgeous pics at bumpershine
as well below!
Video: (split up up into 2 pages)

You Will Become (by lucidaisy)

Love Don't Leave Me Waiting – Respect (by princeldarion)

When Your Mind's Made Up (by Bmar137)

Low Rising – Sexual Healing (by Bmar137)

Talking with the Wolves (by Bmar137)

Bird of Sorrow (by floodedkat)

Click here for lots more videos from this gig…