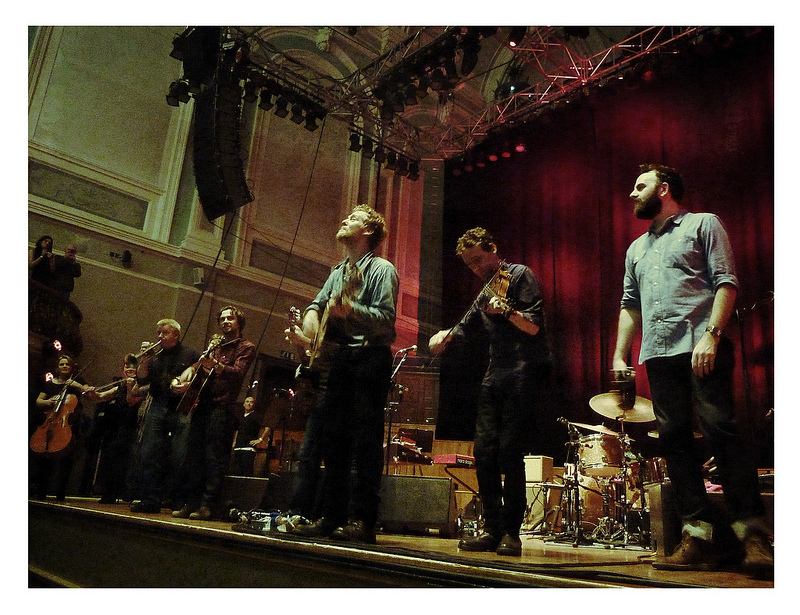 Support Act: Seti the First
Main Set: You Will Become, Talking With The Wolves*, Philander, Love Don't Leave Me Waiting – Respect (Aretha Franklin), Low Rising – Here Comes the Night (Van Morrison), When Your Mind's Made Up, Bird of Sorrow, Leave**, Lay Me Down** – Ring of Fire** (Johnny Cash), Astral Weeks** (Van Morrison) – Smile** (Pearl Jam), High Hope, Moving On, Santa Maria, Revelate, Where is my Mind (Pixies), Song of Good Hope***
Encore: This Gift, Heyday (Mic Christopher), Don't Do It (Marvin Gaye/The Band), Falling Slowly, Fitzcarraldo, Passing Through (Leonard Cohen)
*Simon on shaker
**Glen solo
***Colm & Strings
[Thanks to Fleur for the setlist and notes and photo (on her birthday!)]
Notes: There was a really strange vibe coming in to Ulster Hall and I didn't know whether it was going to work for or against the band. I was really interested in the demographics of the audience because it was so different to other shows I have been to – it was a very young crowd (I swear the boys next to me didn't even shave!!) – great to see – says a lot about a town in my view. There was (as expected) a lot of references tonight by Glen to Van the Man. There was also some great singing by the audience for 'When Your Mind's Made Up' – this seemed to really buoy the band's mood and it all took off from there – they were having a grand old time on stage and it really translated physically in everyone's performance. 'Lay Me Down' was given a great reception and Glen relayed the grave story behind the song noting that he and his girlfriend had a cuddle in the hole dug as the grave – there were hoots from the crowd to that and Glen had to clarify that they were too young at the time for anything like what the audience was trying to infer although he may have got some boob that night!!Unsurprisingly Glen broke a few strings on The Horse during 'Astral Weeks' and Simon had to come out mid-tune and effect a guitar change over (which was pretty much seamless!). Glen asked the crowd to participate with the "there" part of 'High Hope' and after one round of practice asked if there were any harmonies to be had – the next practice round had one very loud and very out of tune guy giving it a go – Glen said jokingly "You can sing, but I'd rather you didn't". After 'Moving On', Graham got some love from a female audience member who proclaimed that he was 'hot' – Graham got up and did a little shimmy in appreciation. 'Santa Maria' was sublime and that kicked off a rather strange trio of songs – neither 'Revelate' nor 'Where is my Mind' were on the setlist so it seems that was spur of the moment – I did wonder whether the audience were old enough to know the Pixies cover!! 'Song of Good Hope' was dedicated to Roy (and his plastic boat) and Dawn.They skipped the encore break and just kept going so the band came straight back on for 'This Gift'. Glen mentioned that Colin Davidson (who painted the portrait on the cover of R&R) was in attendance somewhere.  It seems that some band members got a little lost in the song at one point and Glen put his hands up to stop them all and went on singing with guitar until they all picked it up again. Graham in particular really kicked it on this track – he was really giving it some and clearly having a great time!
Glen did a little snippet of 'Heyday' a capella to please some calls from the audience and then went on to comment that it was great to be back at Ulster Hall because it was a big room with a big sound. They kicked straight into 'Don't Do It' and the whole band had a ball. 'Falling Slowly' was next – which is a little strange to hear without someone dueting with him – the crowd gave it a red, hot go though! 'Passing Through' (also not on the setlist) ended the night and the whole band (including brass and strings) made their way off the stage and through the crowd and back again. Very impressed with the crowd – there was some great singing and lots of respect (no drunken yelling out) so the weird vibe worked for the band completely.
Band: Glen Hansard, Colm Mac Con Iomaire (violin), Joe Doyle (bass), Rob Bochnik (guitar), Graham Hopkins (drums), Justin Carroll (keys)
Brass: Curtis Fowlkes, Michael Buckley, Ronan Dooney
Strings: local musicians
Review: Chord Blossom
Photos:
Most taken from Fleur's Flickr set here.

Video:
Love Don't Leave Me Waiting – Respect (by nic0blue)

When Your Mind's Made Up (by mcharge2)

Leave (by jimladen17)

Lay Me Down – Ring of Fire (by samadriftwood)

Song of Good Hope (by jimladen17)

Don't Do It (by samadriftwood)

Passing Through (by Stephen Quinn)
http://www.youtube.com/watch?v=S1LZ18FL8KA