Glen appears as part of the Tribute to the Music of The Rolling Stones benefit concert. He and 20 other musicians perform the tracks from Hot Rocks 1964 -1971. Proceeds go to several musical charities, including Mr. Holland's Opus Foundation, Midori and Friends, Church Street School for Music and Art, The Pinwheel Project, Music Unites, The American Symphony Orchestra, Young Audiences New York, The Center for Arts Education, and Fixing Instruments for Kids in Schools.
Glen plays "Under My Thumb" with a snippet of Van Morrison's "Gloria", accompanied by a musican on stand-up bass. He joins the rest of the performers for the encore of "Tumbling Dice".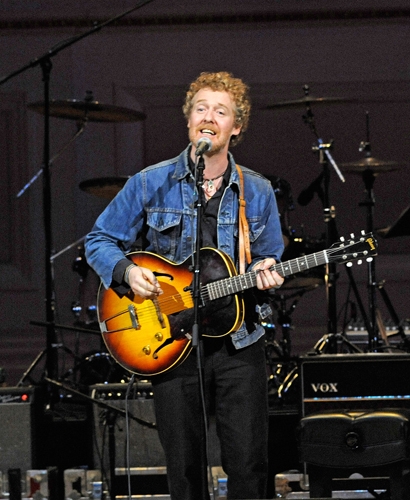 Preview:
CarnegieStones.com

Reviews:
New York Daily News
New York Times
Showbiz 411
Rolling Stone
Rock Cellar Magazine
I Blog What I Hear
Billboard
Hollywood Reporter
CBS New York
Black Book Mag
Photo to right by Bobby Banks for Rolling Stone

Some great photos by Slipetz at Flickr.

Video:
Under My Thumb – Gloria (by Liz0923)

Tumbling Dice (by Liz0923)

.