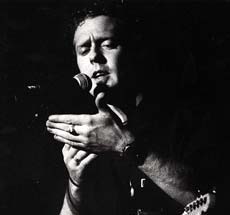 A glimpse into Glen Hansard's tour diary while on the road with The Frames' fourth album For The Birds (2001)
– including reflections on their first landmark Olympia show (March 30th, 2001)

Olympia, March 30th
The feeling surrounds us, pulls us out of ourselves and demands that we rise to the call. There are so many reasons to run and disappear, an old feeling, recurring whenever things are good; I want to flee, and at times I have.
I woke up late again today, sleep comes when the brain goes down, which isn't often just now. 18 missed calls, it's 1.30pm, I've got the best message from Damien Rice, singing down the line with his guitar, asking about soundcheck times for tomorrow, a smile breaks and I'm ready for this the biggest of days. Decide against breakfast and take a shower.
There are so many people giving their time and energy to this day. There's Jens my 50-year-old German friend, taking pictures of birds on wires in West Cork. He'll make the journey today with his wife, to be at the soundcheck, so I can see and use the slides during the gig. His energy is astounding. There's Siobhan who is at home with her friends, cutting up sheets, and making us skull masks, she left a message, she's up to 300 now. There's Donal Scannell who has tirelessly been kicking our arses for as long as I can remember, he made our first video and he'll make our next… the list is endless.
My answering machine is full of legends: David Kitt is bringing his holiday slides, Paddy Casey is coming down to sing, Donal Dineen is talking about the record, oh, and we release our fourth album today. There are times, when it's tangible, when you can feel the results of your work, when you get that moment of satisfaction, that what you do is leading somewhere. It's 2:00pm, I have to go. As I leave the house, guitar in hand, a magpie flies right at me, within arm's reach, and for a moment there I almost doubt. Then I remember a lyric "and it's one for joy, and two for joy, and three for joy, and four" etc… It's important to fight the impulse, there's a lot of people involved now, I won't run, I'll go on…
The Olympia, a fine well dressed old lady of a building, stretches upward all around us. Chaplin stood here, Van The Man stood here. The quiet lady is sleeping. John Brogan, the husband to this lady, lingers patiently in the wings. "No rush lads, tonight's your night, take your time." I like hearing that.
Some kid has just come down from Road Records with his copy of For The Birds to be signed (a first) and I'm transported back to when I waited to see if Mike Scott would walk past while I was busking, so I could ask him to sign This Is The Sea. He did walk past and he did sign it, and he gave me so much more. I'm still getting it, little by little. It's the duty of all artists to destroy the stage, I think, to dispense with the unnecessary veils, and always pass it on when it falls to you, whatever it is.
Dublin hasn't felt so alive since then, the Coffee Inn, the wonder, The Waterboys, the busking, the Cureheads, and yet there's no need for nostalgia, because we're all here today doing it still, carrying a flame and using it to burn the useless wood and illuminate the moment.
The weekend is over and I'm awake now, the body has done its work and will take no more. Everything hurts, specially my throat. My clothes smell of a night in Whelan's and of victory, four gigs in three days all sold out. It feels good to say it. Rose from the bed and fell into the couch, the sound of amps firing, drums and applause still in my ears, and the cup of tea feels good against the cracked voice. Must get some honey. More gigs this week…
Cork, April 10th
We made plans this weekend, we played, laughed, released a record, did a lot of interviews, and yet I'm not a bit tired; the energy we all feel for this right now is huge, and maybe it's because this will be our victory if that's what it's to be, or it'll be our failure… "Try, fail, try again, fail better" – Beckett.
It feels so good to finally have the wheel back in our hands. It's the right of any man to choose life or choose against it. We have for the longest time been at the mercy of some faceless body in an office, most likely an accountancy graduate, who probably knows nor cares little for the music he's selling, and maybe less for the people behind it, and for the first time in our career we get to turn the key, put on the seat belt, indicate, check the mirrors, release the handbrake and go. And here, two weeks into the drive, I can say with ease that it's never felt so good to be back in my own shoes. I haven't felt this since I was busking..
So the overall mood right now, over the course of the tour thus far, is that somehow the stakes have just gotten higher. There's more to win and more to lose. I've never been more aware of the safety in non engagement. Still, this is not the time for retreating, or running away, though old ghosts do stir. Fame or failure: two words that we've never been comfortable around, one invariably leads to the other, and their odour is palpable everywhere, their thick musty hands have no grace.
But of course it's all relative. Do we fail because fortune left us waiting for so long that we got tired of hanging on, and set our sights closer to the truth? Is it that we are right and the world is wrong? All that's important is that we make music that we can enjoy, and feel proud of…
It's so great that the album has sold so well these past weeks. It's been a genuine surprise to us all. The fact that people went out first week and actively put our album in the top ten is a great sign, an indication of the kind of confidence that Irish audiences possess now. I haven't stopped smiling to myself since. I think this is a good indication of how things will be for Kittser's album, for Damien Rice's album, for Mic Christopher's album, for Paddy Casey's new record. It goes on. Our audience have been the one sustaining factor throughout our career and when you have such solid patronage, the bank that is the major label doesn't take control, and therefore the distance between the song and the dance draws closer and more intimate.
There had been an ongoing debate between ourselves and previous labels that if we were allowed to be ourselves, and do things at our own pace, that the music would probably reach further and last longer, though they couldn't see how anything below 50,000 sales of a record could be anything other than a failure. It would tire them out listening to us go on about seeping quietly into the world.
There has always been this understanding that success is some kind of exclusive position, or that there is only ever room for one at the top. This, of course, is the kind of belief that has the industry imploding on itself daily, where no job is safe and your position is constantly precarious, which in turn leads to dissatisfaction, lack of confidence and ultimately sickness. I'm not saying he or she was wrong, but The Frames and ZTT? A real case of the right key in the wrong lock. Both valid but miles apart.
It's funny that For The Birds has already outsold Dance The Devil or Fitzcarraldo. Hopefully those records will become available again sometime and maybe Another Love Song might even re-appear. We just want people to be able to get the records if they want them, I hope that this will someday be the case. It's been a week of firsts: our first independent record, our first top ten record, our first charting record for that matter.
So then, ten years, four albums, seven labels, 1000 shows, no money, (I could easily have made more money working at McDonalds than I have being in The Frames). Do I sound bitter? Well I'm not – I still feel the same about it now as I did when I first decided to be a singer.
It was simple: I was ten, my mother loved Leonard Cohen and I wanted to sing like him. That decision bought me a small plot of land, and all I've been doing since, is ploughing and tilling, reaping and sowing. The songs are out there in all weather, and the survivors get onto the records – all I do is check them once in a while to make sure they haven't been choked by the weeds or are getting too little sun or water. And here now, after twenty years on the same field, it still gives me great reward and great backache. And if I'm a fortunate man, I'll carry on working this land until I'm too old to plough.
Maybe this year I'll buy a tractor.
Glen Hansard