In 2005 & 2007, The Frames' stellar merch manager Chérie kept a tour diary (with some guest entries by Donal) as the band traveled around Europe. Both diaries could be found on the old Frames site, but we've added them here too for safekeeping. Links go to those particular gig pages & other bits, if available. You can see more from gigs that year that aren't mentioned below over at the 2007 archive.
30 January 2007 :: Frankfurt, Germany
Hey all – it's been awhile. So here's to the start of 5 weeks with the band in Europe. Salute! We had a pretty good day of getting to and through Dublin airport, seems the time to fly is mid to late day, otherwise my experience is that it's pretty rammed esp. at the ungodly hours prior to 7am. It's great to see everyone together again, I know we were all just at Vicar St on the 14th but it's been a good long time since we've gathered for an extended tour. It's been fun listening to Glen's adventures in Park City, UT at Sundance. We're all delighted that John Carney's film was so well received and that Glen and Marketa experienced such enthusiasm as we've seen in the reviews online and in the papers sent to us from family and friends back in the states. We flew to Frankfurt and reminisced about the last time we came through and poor Gerry was held up in customs over a digital camera he bought for one of his kids. Still not really sure what that was all about. Anyhoo, we meet up with Tim our driver and he delivers us to our home on the road which tonight takes us to Munich. A big thanks to Claire for sorting us out with a lovely home away from home. Our first stop is to the Axxe road side restaurant. For those who aren't experienced with these type places in Europe, well it's no Burger King/Pizza Hut/Taco Bell stop, whew. (yes I'm talking to you Americans that know about roadtrips where there's nothing but a waffle house in sight as well as the above mentioned) Now I'm a veggie so most of these euro roadside restaurants don't much appeal to me as they do the meat eaters. Simon and I are outnumbered in that particular situation, but we're not moaning, just staying. 😉 oh but don't worry about us, there's plenty of lovely cheese sambos and chips (frittes) on offer .I'll do my best to get the lads to contribute to the diary but there are no guarantees, after all they've got work to do…. so in the meantime y'all are stuck with me. Claire suggested I write about the restaurants/food we partake in, and I'll be sure to let you know about the lovely things and strange ones too, if that happens. I will say at this point that our Lampy, Andy Taylor, says that he's a bit of a connoisseur of snacks, so I'll quiz him on what he's finding along the way. Today we've really enjoyed some sesame "gold fischil" that he picked up at the garage. Like the cheesy gold fish(shaped) snacks but a lovely toasted sesame. For tonight's tv entertainment we watched some Fr Ted, a few Black Adder episodes and The Castle (Australian film). well that's what I saw, the documentary – making of Dark Side of the Moon was on while I was typing this and possible some other bits.
**
31 January 2007 :: Munich, Germany :: Ampere
Happy Bday to Lisa in Cork and to my Sister, Brandy in Chicago. And I know there's one more I'm forgetting from my myspace friends…. sorry. I'll send this now while i've got an internet connection…..more soon xo che
**
04 February 2007 :: Munich, Cologne, Praha, and Brno
Today we're in Brno, just arrived at Fleda. Looks like the sun is breaking through the clouds, should get out for a walk before the clouds and rain return. But first a bit about the last few days.
Munich turned out to be great start to the tour and as always, it was really good to see Berny. Mexican Elvis supported tonight, definitely worth checking out. We drove overnight to Cologne, well to just outside then drove in around midday. Simon scouted out the neighborhood for food and reported there was plenty of falafel and a bit of pizza to be found. Rob and I walked a bit and found a lovely little place, Falafel Salem, delicious! Later Colm told us he was photographing a church down the street, went in to find that it's now being used as a venue and got to hear a bit of pipe organ rehearsal.
For dinner the venue sent us down the street to PhongLan, a lovely Vietnamese restaurant. We were lucky they have menus in English and the waiter spoke a bit as well. I really admire those with multiple languages whether it happens from necessity or desire to learn. I should have had a shirt made saying, "Sorry, I don't speak (insert language), English or hand signals please." I'll have to look it up for the 6 or so languages we'll be dealing with, next time there's internet I'll get at least that much. Too bad there's not a 24hr pill to swallow that would enable us to fluently speak whatever the local is. (or if you're into the Futurama sort of view, a chip that we could insert in our head or neck) Yes that sounds lazy, but my intentions are good. So many folks complain about English-speaking "waters down" foreign language and culture. This would help maintain dialects and languages, well that's my take on it.
Anyway, Franz Kasper played support tonight and from what I could hear he's worth another listen. We've got his recent cd at home and now have, "the new rockin chair, introducing violin violence". I look forward to it. It was good to see some familiar faces tonight. Meredith we haven't seen since Seattle and Portland, just happened to be in town this week for work. You just never know where you'll run into people ya meet while touring. Oh and we got our tour posters, they were designed by Dan MacAdam in Chicago and printed in Dusseldorf at www.slowboyrecords.de Thanks to Andreas for driving them down to us.
After a bit of socializing with old and new friends we head out to Prague. Tonight we watched some Family Guy and the Borat film.
Day off in Prague, wandering the streets for food and it's nice just to be able to get out and walk around without a time limit. And what a beautiful city for it. I know I raved about it last time I was here with the band, but here again, for anyone who hasn't been, it really is worth the trip. I'm sure it's changed over the years as are most European cities, but if you avoid the trendy shopping bits you'll see amazing architecture and feel the history all around.
While at lunch Rob found out his solo cd had been delivered to the Archa, so we walked over and picked them up. We're delighted to finally have it in hand, it's been a long time in the making. We're selling them at the shows and will sort out a way to have it available via his myspace page and hopefully the Frames website as well. yeah!
Colm, Johnny, Rob and myself went for dinner at a little place near the Archa, Chalupka I think it's called. Nice, inexpensive food, pastas and some Mexican fare and some lovely beer. hhhmmm now to remember what it was, Johnny remembers it was Krusovice, very easy to drink. Andy and I watched a bit of Mash then a few episodes of Curb Your Enthusiasm, Johnny has season 5 with him. That Larry David is a funny man, but it's definitely something you have to get warmed up to. Or not as I'm sure his sense of humor is not for everyone. Later I went down to find 'The Young Ones' on, was so hard to pull myself away and get into my bunk, but it was late and I wanted to get up for the drive into Brno.
Back to Brno, again Colm, Johnny, Rob and myself head out in search of food and a bit of sightseeing. It's Saturday and pretty quiet, we're about a mile away from the center of town so a brisk walk to warm us up. Another beautiful city with gorgeous architecture and amazing cathedrals at almost every turn. We'll post some photos up eventually, maybe on the The Cost myspace page, I'll check with Donal to see what he thinks, that way Joe or Rob can put them up as we go along. We'll let ya know.
So Johnny goes off in search of a phone card and phone, while Colm, Rob and I stop into a small Italian Cafe. A bit of pre-curser to our time at the end of the tour in Italy. Caprese Insalate, lasagna, pizza, tiramisu, lemon pie and a few cappuccinos later we're satiated and ready for the walk back to Fleda.
Supporting tonight and for the next couple of nights is Longital from Slovakia. I couldn't hear them from where I was set up, but figure if they are with us for these dates and later in Austria and Italy, they must be something to check out. They told me they sing in Slovak, but have translated their lyrics to English on the cd liner notes. Well for their recent release, not sure about the others. A great night full of really nice friendly folks. I recognize a few myspace faces, not placing the names straight away but Rob sorted me out.
Back to the bus for me while most of the band stayed inside to chat and enjoy the night. Simon had 'Almost Famous' on the tv, so I was sorted for the next hour or so. Once everyone piled back on the bus, it was a call for Borat again. Not everyone had seen the previous night's viewing, so off into the night we go with the antics of Sacha Baron Cohen. Johnny's watching some old Seinfeld episodes and lends me the Curb Your Enthusiasm. My 2 viewings of Borat were enough for a bit and that would have been Johnny's 4th.
Here we are back in Praha at the Archa. All are in getting showers and setting up for later. I'll stop this now so I can count in my shirts and maybe find a wifi signal with which to send this.
Ciao for now. xo cherie
**
06 February 2007 :: More Czech Tales
Praha – The Archa – amazing room, lovely people and half liters of great beer for less than a euro, what more needs to be said. I have yet to be able to hear (Longital) Shina and Daniel's set, but did catch some of their soundcheck. Really beautiful. Glen said Czech surrealist filmmaker Jan Svankmajer came out to the gig and some of the lads had the chance to meet him. An honor indeed.
Plzen – The band is playing as part of a month long festival called – 27 Smetanovske Dny – about 4 events a week, music of all genres, theatre and film. www.smetanovskedny.cz it's mostly in Czech, but worth a look around. they will be posting photos from all of their events in the next couple of weeks.
Jana and David our festival reps meet us at the venue to take us to our hotel. Yes, tonight we leave our home on wheels for a nice little place with a bar and restaurant downstairs, which is always a plus. Karla is a wonderful barkeep who was happy to serve us all large glasses of the local special Pilsner Urquell and try to convince us it's actually good for you. Hotel Plzen I think it was called.
Tonight Jana tells us there is a theatre event, "Baroknípera" – which is Petr & Mat.j Forman (Milo.' twin sons), Milan Forman (no relation) and 2 others, one on the organ, the other doing lights. This "opera" is a puppet show with a bit of comedy troupe thrown in. Johnny, Colm, Rob and I take her up on the offer. The theatre is behind an American West themed restaurant-saloon, which you have to walk through. We had a bit of time before the doors so Jana recommends another local brew, Grambrinus, more of an amber look to it, very smooth, very nice.
Once those are finished, we went inside and were greeted by Pavla, one of the Festival directors. She introduced us to Mat.j who was very gracious and sincerely delighted that we had come out. We took our seats, not long after they began to work the room, talking to the audience and messing with the press photographers, running around posing. They addressed the audience before beginning the play, asking in Czech if there was anyone who didn't understand what they were saying. A woman seated in front of us turned and motioned that we should raise our hands, at the same time one of the brothers spoke in English, asking the question again, we raised our hands. He asked where we were from, Colm replied Irska. They asked if we would like to feel at home, we say yes and out comes a tray with 4 whiskeys which were passed back into welcome hands. After a toast they go on a bit more in Czech with some English, explain a bit about the premise of the play then the lights go down. Maybe try to wikipedia it and hopefully they'll have a bit of info.. . We have a program from the festival but it's all in Czech. After they allowed the audience to try out the puppets, of course we had to have a closer look ourselves, we'll get some photos up soon.
Jana met us after for a beer then we walked back towards the hotel to meet the others for dinner. On the way we came upon Stara Sladovna, a restaurant that specializes in many grilled beasts. Seeing as it was getting late the lads were famished and thought it'd be worth a try. Quite possibly the sign that read 'sucking pig' had an influence, yes I know it should have said 'suckling pig' but no. Jana said it's a popular place with tourists, but it's no chain restaurant with neon lights quite the opposite, the sort of place Hagrid would frequent. Dark and cozy with a nice fire going, wood beams throughout with large wooden tables and benches. A large platter is ordered between them. A few beasts and loads of veggies come out on a huge skillet. I had veggies and salmon, delicious. During dinner Jana gets word from Fiacre that they are going bowling. So after we've cleaned our plates we're off to meet up and "throw some rocks". A ten minute walk and we find Simon, Andy, Joe, Leon, Fiacre and David in the midst of a game. (Glen has stayed behind in Praha to do a TV interview with Marketa about the film 'Once', Sundance and generally what he's up to these days)
Jana offered to take us to the Pilsner Urquell brewery the next morning, but most of us were pretty wrecked from the late night in Prague so we passed. Sleeping in will be our morning activity.
The venue is Peklo, a community center with a big ballroom and in the same building is the Gen. Patton Memorial (On May 6, 1945, at the very end of World War II, Pilsen and Western Bohemia were liberated from Nazi Germany by General Patton's 3rd Army; the rest of Czechoslovakia was liberated from German control by the Soviet Red Army. )
Tonight I couldn't see the gig but from where I was it sounded amazing. Colm did a piece, Blue Shoes, and I heard Marketa singing, believe that was a new song. Tonight was our last night with Longital until we're in Austria. They are off to Poland to do some gigs then we'll see them in Linz March 1st.
**
07 February 2007 :: Dresden, Germany :: Starclub
I've attempted to add clicky links so that those interested will read further on the places we go, as we are on a large touring bus we don't always get a chance to get into town until it is time for load in. Ok, get out your Atlas and you'll see we are traveling from Plzen to Dresden, the venue is the Star Club which is not in the city center, it seems to be pretty far out. I think the area is called Briesnitz. It's pretty residential so there's not much in walking distance. Rob and I walked a bit to a church, the postcards read 'Kirche zu Dresden-Briesnitz', so my guess is that's where we are. There was a cemetery on the grounds, so we had a stroll around, it's always interesting to see the different tombstones and variety of ways graves are decorated. Part of the grounds overlooks a river, not sure if it's the Elbe river or a tributary. We had a quick look inside the church. It has a huge pipe organ, but no luck to have stepped into rehearsal, there was someone locking the place up so off we went. Back to the venue to the arrival of 3/5 of the BellX1 boys. Dave, Dom and Paul will be supporting for the next several dates, as most of you probably know from Claire's newsletter.
**
08 February 2007 :: Hamburg, Germany :: Hamburg Logo Club – Rock 'n Roll since 1974
Great little rock club, seems to be across the road from a university, loads of students about. Really nice bookshop across the street, popped in for a few postcards. Today it's pretty cold – I know nothing compared to what it's been like for our friends in Chicago and the Midwest but it finally feels like winter, started to snow just before the doors opened and now a couple hours later I was able to sneak a peek outside and everything was covered in a blanked of white. Tosh (sp?) from Logo said it's only their 2nd snow this year – considering global warming I guess it's no surprise. The staff at Logo have been most welcoming and tonight the crowd is amazing, small but dancing. It's great to see people so moved by the music they are taken somewhere else for a couple hours. As we've got the day off tomorrow, after the gig there's no rush to leave and Tosh was kind enough to let us stay and enjoy a few lovely Erdingers, the guitar comes out and gets passed around. A nice lil session before we head out into the snowy night. Before boarding the bus the snowballs begin to fly, that's not a fight I'll be any good at, so 2 snowballs later I'm on the bus. Wishing now I'd have been able to get it on video. Geraldine, a new friend from Australia, hadn't experienced snow before and was delighted to catch the snowball fight and help decorate a snowman. Rob's devilish side came out and his contribution to the snowman was a carrot, let's just say there should be plenty of giggles for anyone who walks by in the morning.
The 3 Burials of Melquiades Estrada is on tonight. There's also been quite a bit of Futurama on the go.
**
09 February 2007 :: Antwerp and Brussels, Belgium
We arrive in Antwerp in the afternoon, the venue, petrol is a bit out of the city center in an industrial area. Shipyards and the river are just across the road. We all headed into town on the hunt for hood, coffee and delicious Belgian beer, pretty much in that order. I've not been to Antwerp before, really beautiful old town area, Groenplaats is where we're dropped. I was stunned when we walked into the small square facing the Cathedral of Our Lady, so big and beautiful. Because it was getting late in the afternoon we didn't attempt to explore before deciding on what to eat. There were 4 Italian places surrounding us and when you've got a party of 9 it can be tough getting seated, so Italian it is. While later I'll wish I had explored a bit only because we saw many other lovely restaurants, the Pizzas were scrumptious, nice and thin and cheesy. After we go to a small whiskey bar/cafe for coffees. Thanks Natalie for the recommendation. A bit of wandering around looking in shop windows and generally strolling we stop in a cozy looking bar, Fortuna I think it's called. It looks like you could be in your Grandparents basement, a small half circle bar in one corner, wood paneling on the bar and the walls, brocade tablecloths, a shelf full of kitten figurines and lace curtains which had kittens on them as well. I was surprised not to see a real kitty curled up somewhere. Realizing from the taxi ride in that we weren't too far we walked back to the bus. After writing a few postcards, that will most likely travel with me for a few more weeks, I'm back to "Curb Your Enthusiasm". The Clint Eastwood film, Flags of Our Fathers, is on downstairs, Rob and I had seen in it in the theatre so I skipped this viewing. During a "curb" break I go down and catch a scene where my brother-in-law is an extra, so cool to see him on the tv. A few of the lads have gone into the club, I find out later the SuperSuckers played then several DJ's, Goldie spinning drum and bass well into the night. Simon said the last dj was scheduled for 5am.
**
10 February 2007 :: Antwerp, Belgium :: Petrol
A big shout out to my GrandMa who turns 91 today! Happy Bday!! I hear the sun was shining for her. Can't say the same for us, woke to a rainy day. But as it was a pretty late night for most, today's destination is only the venue. Showers, laundry and internet are on the agenda. Ya just have to love venues with all that and a kitchen! Anyone out there dreaming of designing, owning or running a venue, bands will love to play your place if you've got those bits. Of course top equipment & a great sound are more of a priority but showers and laundry are such a luxury for touring bands. Kitchens are great as well especially if you've got a staff that need to get in early and stay throughout the night. I imagine catering for staff and band saves time and money, as well as being a bit healthier. Another late night, The Frames not on stage until half 11 or so, finishing about half 1. I was in the same room but it was a huge space that was divided by a DJ booth and black drapes. I unfortunately was on the opposite end of the room. I could hear the loud bits and see a little at the start but my side slowly filled with club goers waiting for the DJ to start back up. There was a movie screen projected on the wall that played Barbarella over and over, think I saw it 3 times by the end of the gig. After packing up a few of us stick around for drinks and people watching. When we got back to the bus Simon was watching Wilco's documentary, 'I Am Trying to Break Your Heart' and even though I've seen it a few times I stayed up, not a smart move, it was about 8am before I got into my bunk, not a good night to do that as Brussels is an early load in.
**
11 February 2007 :: Brussels, Belgium :: BotaniqueWhich I missed, overslept by an hour or so, oops. So with a bit of a headache and not too much sleep I make my way into Botanique, wow what an amazing building and gorgeous sculptured gardens out front. Walking through the hall to the Orangerie room is like being in a Conservatory, it's lined with large palm like plants and water features with goldfish. Playing in the Rotunda room tonight is a band called The Long Winters from the States. I met John briefly, he and Rob were talking about New Orleans, I guess they had been down there in October. And he spoke fondly of seeing loads of NoLa musicians in Austin at SXSW last March.
**
12 February 2007 :: Luxembourg :: Rockhal We're driving straight to the venue, unfortunately that means not seeing any of the town. Rockhal is in some sort of industrial park, it looks like an old cement factory or steel mill and lots of construction sites around as well. the venue itself is only a year or so old, it's a huge building with 2 rooms, one that holds about 6,000 the other maybe 500. Tonight after dinner we surprised Andy with a birthday cake, Happy Birthday Andy!! I'm in the room for the gig and it was really nice to catch BellX1 as well. It was a good crowd and from what I could hear there where quite a few Luxembourgers there. I was told there are lots of Irish ex-pats in Lux. I did hear a few accents and during the gig noticed there were a few over zealous Irish folks up front making themselves known. All and all a good night. Hopefully next time they will all get a chance to see the town itself.**
13 February 2007 :: Groningen, Netherlands :: Oosterpoort
I had a quick wander around in search of a card shop. I took a right instead of a left and missed out on the center of town. But I did find a small shop that still had Valentine's cards and while it was in Dutch it looked like it said what I wanted to. I did check later with someone to make sure and it was all good. Since I missed out on the city center, here's a bit of wikipedia info: The city was founded on the northernmost point of the "Hondsrug" area. The most ancient written document pointing out that Groningen's existence emanates from the year 1040. However, the city already existed a long time before that year, for the oldest archaeological traces found are believed to stem from the years 3950-3720 BC and the first real civilization in Groningen has been traced back to the third century. And – Groningen has been called the "World Cycling City" since nearly 50% of journeys within the city are made by bicycle. The city is very suitable for those who want to get around without a car, as it has an extensive cycle network, good public transport services, and a large pedestrianized zone in the city center.
Thanks to Sinead and Donal for bringing a few friends and for the Hoegaardens. While I didn't see the show myself I could hear most of it. BellX1 sounded really lovely, as usual. The room was pretty cool as well a great size to still have that intimate feel. We ate at the venue so I've no recommendations, maybe Sinead and Donal can make some suggestions.
**
13 February 2007 :: Groningen, Netherlands :: Oosterpoort
by Donal

I'm  in Groningen for the week on holiday so it's nice to catch up with the lads at the oosterpoort. The oosterpoort is a purpose built music centre and theatre. The Frames are playing the medium-sized hall today and the sound is just great (think vicar street, but smaller and with tiered seating). Bell X1 are up first and get a good reception from the crowd.
The Frames come on about 9.30pm and play a great set (setlist) – the version of star star brought me back to a vicar street gig in late 2000 – tonight's version was as good if not better… the crowd were amazing tonight (glen missed the cue to restart when he paused mid-song at one point due to the pin-drop quietness). The encore sees colm dedicate his solo song (blue shoes) to mic and gets a great reception. The music continues and I'm sure folk would have stayed all night if the band had kept playing!
Afterwards we chat to some of the local folk we know (hi to paul, jan and martine!), catch up with cherie and grab a copy of rob's new album (very nice!) and one of the tour posters (designed by a guy (whose name escapes me right now) in chicago). After a little while, colm creeps out and chats to a few folk, followed by glen a few minutes later. No sign of rob, joe until nearly everyone is gone, but they eventually come out and sign some CDs for the folk still there… Johnny has picked up a dose somewhere along the way and pops off to doctor straight after the show before retiring to the comfort of the tour bus (look after him if you see him!).
The rest of the band retire to the green room along with sinéad, our dutch friends and myself. Topics up for discussion are "why are dutch folk so tall?" and "renewable energy sources" which being tech-savvy folk goes on for a while… andy's birthday cake (still a little left) and a well-stocked fridge are the after-show spoils. It's getting late, so the guys pack up their things ready for the tour bus and we say our goodbyes…
**
14 February 2007 :: Day Off in Amsterdam
by Donal
All I'm saying is go if you haven't. So easy to get around and so much to do.
**
15 February 2007 :: Amsterdam, Netherlands :: Paradiso
Nice old church turned venue, great staff and a very happy audience. Mirco, thanks for coming out so much. Not much to say here, it's only my second time here and while I don't get to see the gig I have a great night anyway. There is a club on after the gig so it's another late night for most. I've seen quite a few folks at these last few gigs, Nika, maybe you should blog about your mini tour. Eoin came in just for this gig, hope you had a good night and your time at the airport was ok. Mirco, thanks for the kind words and support.
**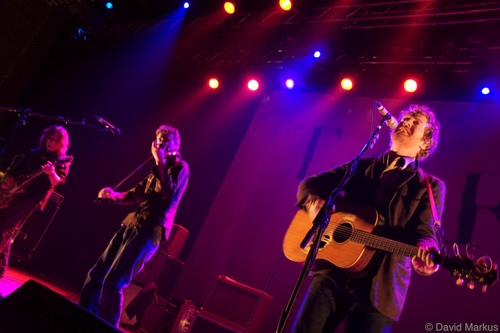 16 February 2007 ::  Eindhoven, Netherlands :: Effenaar
The lads get up early and are taken away to do 3FM Radio things. The rest of us head to Eindhoven. We're at Effenhaar which is near a major train station, for all those travelers out there, it's one to keep your eye on, easy enough to get to. There's a bit of a shopping area close by with loads of bars and restaurants and as it's the Friday before Shrove Tuesday or what I grew up calling "Fat Tuesday", there's lots of decorations and folks wandering around in costume.
I hear the venue is fairly new but only in structure, there had been a venue in the same spot that had occupied an old factory. And what a place, 5 floors of back stage, offices, artist lounge, dressing rooms, a cafe on the ground floor and plenty of stairs to get the heart rate up. All that and a very organized and friendly crew. The gig was wonderful, even though there were some chatty folks in the back the audience was overall giving loads of love. It was great to see Helmut, Tim, Menno & his Mrs. (the dutch film crew that did a documentary a year or so ago). I'm sure the set list has been posted on the msg board already, but in case the 2 solo bits didn't get named, Colm did "Blue Shoes" and Rob did "First Time Again" off of his record. Inge, thanks for coming out and bringing friends, hope to see you again next time we're around or somewhere out on the road.
**
17 February 2007 :: The Hague, Netherlands :: Paard van Troje
We've arrived for the band to be taken away to another radio gig. It's the Chinese New Year today (year of the Pig) and there's a parade in Chinatown just a few blocks away. I went for a stroll to check out the neighborhood and to see if I could catch the parade. What I did get to see was not so much a parade but a ceremony sort of blessing the shops on the block. The firecrackers roared so loudly it was deafening. So the venue is a big place that has a club starting just after the gig, so it'll be another night of being out in the lobby and missing the gig. It was great for me to see so many familiar faces even if it was just for a quick hello. By now you've all heard that it was a rough start to this gig with a few too many chatty people and some fella who had some issues that he brought in with him. But from what I hear from both audience and band the night was turned around and all's well that end's well. Mirco it was good to see you and your family and always, thanks for your kind words. Annemiek thanks for the link to the Swell Season write up and for spreading the word. Nika safe travels to you and see you soon. The lovely folks at Velvet Music came out tonight to sell Frames cds. The lads did an in-store at their shop back in Nov. of 2005 I believe.
If you're in the Hague or any of the other NL towns where they have shops, please do check them out. Their website is www.velvetmusic.nl They also bought a box of Rob's cds, so that's the place to go if you want to pick one up. They pride themselves on their selection and I have no doubt they can help ya with anything you're looking for.
Viewings of late – The Proposition, Das Boat, Mulholland Drive, Saints & Soldiers, The X Prize w/Burt Ratan, Family Guy (a lot of FG), 40 Year Old Virgin, Prairie Home Companion and a Top Gear episode where they go to Florida buy cars for $1,000 and drive them to New Orleans.
**
18 February 2007 :: Ghent, Belgium :: Vooruit

This is my first time here and I'd checked out a map Rob bought back from their time there back in Nov of 2005, so I knew I wanted to get out and walk around a bit. What a beautiful city to wander around. Unfortunately it's Sunday so most places are closed but there's so much amazing architecture to see that we're quite happy just to do that. "Much of the city's medieval architecture remains intact and is remarkably well preserved and restored. Its center is the largest carfree area in Belgium." We walked past the Belfry of Ghent, Sint-Baafs Cathedral & St Nicholas' Church and could see the Gravensteen castle in the distance. We continued on to the Sint-Michielsbrug bridge, which is said to be one of the most photographed views in Belgium. A good time to stop for a coffee and enjoy the scenery before heading to the venue. Tonight they play Vooruit, a beautiful building with a gorgeous bar/cafe downstairs that is full of people of all ages listening to a dj spin some big band. Later when we come back in there's a guy with a bright red mohawk playing accordion with kids running around on the stage behind him. I read Vooruit was build in the early 1900's as a community center, in the 40's it was taken over by the Nazi's. It eventually was abandoned and in the '80's some like minded folks decided to bring it back to life for the community. One can sit all day reading a book or having a coffee or just people watching. There are a few different venues inside of various sizes. It's our last night with the BellX1 boys, miss them already. My merch table is in a strange spot tonight so i'm not able to see what's going on but I can hear pretty well. It sounds like all is going great. Even hear Paul singing Flame towards the end of the night. I'd say that's another lovely night in Belgium. thanks to all who did come by the merch table to say hello and pick up a few things. It's always nice to see familiar faces and meet some new ones.
We've got a long drive ahead tonight, so after a few drinks there are many rounds of goodbye hugs and wishes with Paul, Dom and Dave.
**
17 April 2007 :: UK and Austria
ok I know … I still haven't sent in the diaries for the UK and Austrian dates…. sorry folks, so many distractions. So here's a few bits before it blends into the past tour memories.
We really enjoyed our time in the UK, the London gigs were outstanding, Leeds Varieties is always a pleasure and Four Day Hombre, well what can I say but lovely lads and lovely tunes. Johnny from I AM KLOOT supported on a few dates as well it was an honor, what a talented man. Thank you Sean for the beverages in Glasgow and for all who had me quite busy at the end of the night. Manchester and Brum, two totally different types of venues and gigs, but both amazing in their own. Julie, so cool of you and the family to make the trek over, thanks for all the love. And the road trip ladies, well you bring the sun where there's rain, thanks so much! And Sparkeandfade, that shirt does look good on you… I miss it so. oh and we watched the Pixie's dvd "Quiet Loud Quiet" and the documentary In the Shadow of Motown about the Funk Brothers. On our first night in London, Rob and I walked past the Hard Rock in London just as Aerosmith was finishing up a set and dashing into their limos. So rock n roll.
Austria, ah beautiful Austria, Dornbirn is our first stop, strange little industrial office park, but the snow capped mountains in the distance are just so breathtaking. Bernhard Shurer supported and we had a great night. Met lots of friendly folks, even a fella from Liechtenstein came over to see the lads and buy a shirt. Linz is our next stop. Sadly we didn't get out to see the town but we did get to have some really nice weiss beers after the gig with some new and old friends. oh and Longital has joined us again, Sina and Dano make such beautiful music, please do check them out, they are on myspace as well as their own site and google them for other links to them.
Graz for a day off, sweet!!
**
14 July 2007 :: Dour, Belgium :: Dour Festival
We arrived on Friday evening, Fiacre met us at the airport and brought us to the hotel. Good man, he'd driven all night and had only an hour to put his head down. We're staying very near to the Botanique, very nice to know the area a bit already. After a late dinner we walked about 15 minutes looking for a place to have a few more drinks and found ourselves around the corner to Cafe Central. No need to look further and there was even a few chairs for us to occupy. The beers here are quite lovely and seeing as I'm not having to do the driving, I'll enjoy enjoy enjoy.
Saturday afternoon we head to the Dour festival, the lads play at 5pm. Not sure the name of the town but it's very picturesque. Must be very cool town folk as the music goes on until 5am each night. When we left Ireland it was pissing rain and maybe 15-17C, today we've got partly cloudy skies and 30C !! yahooo… have been missing the summer weather so I won't even begin to think of complaining about the heat. Once the gig starts the clouds have gone and the sun is beating down on the stage. Luckily it's nothing like Coachella but i imagine the band is feeling the temps. The set was an hour long and sounded amazing. Gerry was in great form and the band really gave it their all. After the set we went to catering and enjoyed a bit of food and bevs. Back to the hotel and settled ourselves in the lounge to try a few of the selection of Hoegaardens, Lefes and Chimays. Sunday: Everyone off in their own directions. Rob and I walked over to a kebab shop that we visited when we were here in February. The make a really yummy falafel. After a long walk taking in the neighborhood we met everyone back at the hotel to have an early dinner. We dined alfresco at a local grill, nothing fancy but pretty good fare. I had a really delicious mixed green salad topped with Goat Cheese & Pine nuts on Toast, most everyone else had steak and chips. Not a crumb left on any of our plates, so a very successful dining experience.
Our reason for the early dinner was so we could get back out to the festival to catch Wilco. We didn't make good time like we thought so we missed BRMC who was on just before. Was nice to be able to say hello to the lads in Wilco before they took the stage, hadn't seen them in a quite some time. They played an amazing set, you couldn't wipe the smiles off of any of our faces throughout. Definitely worth the trip back. yeah Fiacre! also a big thanks to Jan for helping us both days. We're back to the hotel but too late to get the one night cap in. So off to bed and up tomorrow to drive to Ghent. The lads don't play until 10:30 so hopefully we'll get a chance to walk around Ghent, it's a really lovely town. will have to get my fix of pomme frites with mayo… not a healthy move I realize but when in "rome" eh?!! 😉
ok so up today to have a bit of breakfast and check out the shops. rob and I heard Season 3 of Deadwood was out on dvd and the price was right, so off we went. Great Success! and rob found many old jazz musicians on dvd as well that he rarely sees and I picked up The Science of Sleep, too good a deal to pass up. A lovely hot and sweet waffle along with a pint of raspberries and a pint of blueberries and we're set. Back to the hotel to meet everyone and head to Ghent. It's warm and sunny here but have heard rumbles of rain in Ghent. That's ok as we've been delighted with the sunny skies we've had these past few days.
**
16 July 2007 :: Rainy Ghent, Belgium :: Boomtown Festival
oh so where did I leave off…. right we're off to Ghent. I remember it fondly from the tour in February. Our last day with the Bellx1 boys 🙁 The trip over was easy and not too long. We arrive to a dry but cloudy town. We arrive with plenty of time to check in and go for a wander. Rob, Colm and I hit the streets meandering our way around. The whole town has been taken over by 2 or 3 festivals so there are carnival rides, stalls of food, drink and retail therapy items. After a good while the big dark clouds start to roll in and luckily at this point we're on our way back to the stage to meet the others for dinner. Just after we arrive to the dressing rooms the skies open up and let it all out. aahh just like back in Ireland for the past several weeks. A lovely dinner and a bit of time to relax. The band just on before is Au Revoir Simone, based in Brooklyn "triple keyboard action" as their myspace says… Au Revoir Simone, we met Erika and Annie, nice folks making sweet music. The rain seem to be holding off, but about 3 songs into their set another down pour. But the crowd held out and they continued to play. Would have been lovely to be at home with a big cup of tea listening to the rain and their tunes. Just about the end of the their set the rain stopped. It was at least an hour before the lads took the stage but the audience came despite the rain and seemed to embrace it. It went from light sprinkles to full on downpours throughout the hour long set. After the gig Fiacre and Simon packed the van and Fiacre was off, hoping to catch a 2am ferry. So we stayed on for a few drinks and nice chats. Thanks again to Jan for looking after us. 🙂 We got back to the hotel too late for more lovely beverages but that's best as we've got an early start to the day to get back to Dublin. x Cherie
**
08 August 2007 :: Dublin to Christchurch :: Support for Bob Dylan tour
Hello all – so we arrived into Christchurch yesterday afternoon. Think Fiacre said it had been 48 hrs since we left Dublin, luckily it only felt like 36. LOL We left Dublin Sunday afternoon as it was in the midst of another downpour, yes I know why leave all that? We arrived to LHR for a quick 4hr wait, met up with Jelle, then off to Sydney with an hour layover in Bangkok. We love Quantas! For these long haul flights their massive 747-400 has an amazing entertainment system. Movies, Documentaries, TV programs, games etc. That made such a difference. We all had books to read but it helps to know you can take a break from reading and have something else to occupy your mind. I watched a documentary: Made in China, Where Mardi Gras beads come from, the movies Fracture and Half Nelson, TV shows Simpsons, Family Guy and Cheese Slices; a fella visits different parts of the world, shows how certain cheeses are made then shows a few recipes, I saw the ones on Gorgonzola and Parmiggiano-Reggiano.(drool) Spiderman 3, Zodiac, 300 and Space Race are some of the other selections I hear were watched. Books amongst us, I'll have to ask around but I know the Bob Dylan Chronicles is among us as well as a few Bill Bryson titles, "Down Under" and "A short history of nearly everything". Our layover in Sydney was only a couple of hours, time enough to have a lovely breakfast at Wagamama, noodles in the morning, yum! We flew into Christchurch around Noon and it a was gorgeous view, mountains then snowcapped mountains then the amazing azure waters, such a sight.
We met up with Glen at the hotel. He had flown over from the States, was on the same flight as Dylan's band. Mr B has his own set of wings. He also filled us in on his adventurous quick tour in the U.S. with Marketa. Sounds like people are really getting it now and are open not just to the film and soundtrack but to the Swell Season project and The Frames, yeah!
Dinner at Arjee Bahjee, serves Indian fare in a Wagamam type setting, lovely stuff. I'd recommend the Dahl Bhat and Spinach/Onion Bahjees. It was an early night for all, the jet lag settled in as we dined. So off to rest the heads in lovely soft pillows.