The Frames' fifth studio album Burn The Maps turns 10 years old in Ireland on 17 September (worldwide release was later in February 2005). We'll be sharing some of our favorite track by track videos/audio over social media the next few days and adding them here as we go along as well.
First track is Happy– here performed on RTE's The View on 14 September 2004.

and again from a gig at Metro Theatre in Sydney in 2007 (gig page here).

Track 2 from Burn The Maps is Finally. It was released as a single in August 2004. Here's the poster and the Hot Press review.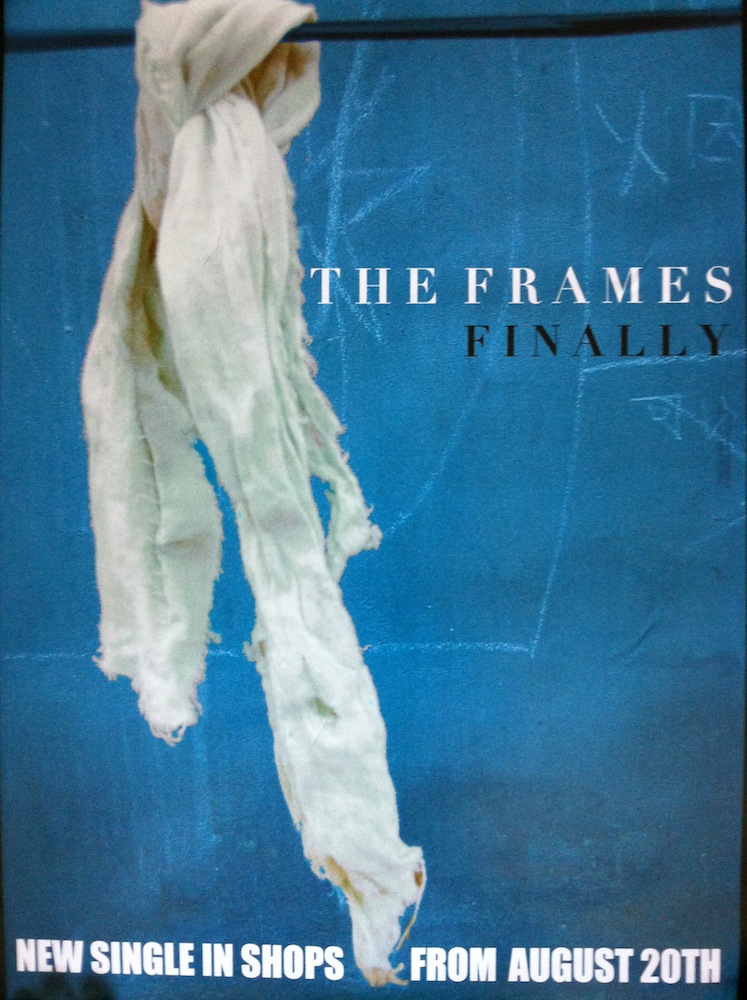 This is Finally performed at the infamous Halloween Ball gig at the Mansion House in Dublin.

Then in early 2005 when Burn The Maps was released worldwide, the band played Finally on the Carson Daly Show.

The 3rd track on Burn The Maps is Dream Awake. The band made an official video for this song & we've also included a live performance we really like from Pinkpop Festival 2005.

Dream Awake from orderinthesound on Vimeo.
Track 4 from Burn The Maps is A Caution To The Birds. We took our name from this song, not because it's our favorite, but because we thought it sounded cool and appropriate for what we do here. We do love it though. Anyway, here's a version from the Lowlands Festival in 2006.

A Caution to the Birds from orderinthesound on Vimeo.
And here's a version we really love from Lollapalooza 2006. The Frames open the set with it and Glen comments on the weather, hoping it will rain. Click to listen: A Caution To The Birds – Lollapalooza 2005
Unfortunately we have nothing to share for Track 5 on BTM, Trying. Instead, here's the album review Peter Murphy wrote for Hot Press.
The Frames' big hit single Fake is the 6th track on Burn The Maps – here's a version tagged with Bob Marley's No Woman, No Cry from the Parkpop Festival in the Netherlands 2007.

Fake from orderinthesound on Vimeo.
Track #7 is the slow burner "Sideways Down" – here we go back to the Mansion House on Halloween. You can also grab a copy of the CD single w/"Me & My Boyfriend" and "How Many Times" at the Frames shop here.

Underglass comes up at #8 – here 'tis from the Paradiso in Amsterdam during the band's 20th anniversary tour in 2010.  Bonus "Friends & Foe"

Number 9 Burn The Maps is Ship Caught In The Bay. Here's something cool & different – a dance troupe in Seoul recently performed a piece to the song.

"This is a song about setting fire to your house and walking away…" – Keepsake is track 10. We love this version from a gig at Melkweg in Amsterdam. You can watch the full, dark November set from this show that aired on 3Voor12 here (includes "Turbit" as the opening song).

Track #11 is Suffer In Silence. All we can offer is an audio recording from a solo show Glen Hansard did in Bitterzoet in Amsterdam September 2011. Click to listen.
Click through for lots of videos from that set as well (Plateau, Lies, Leave, Perfect Opening Line, Stars Are Underground & more….).
Locusts is the final track on Burn The Maps. Here's a live version from the Eurosonic Festival in January 2004. Click to listen.
Thanks for following along on our little BTM anniversary throwback tour!